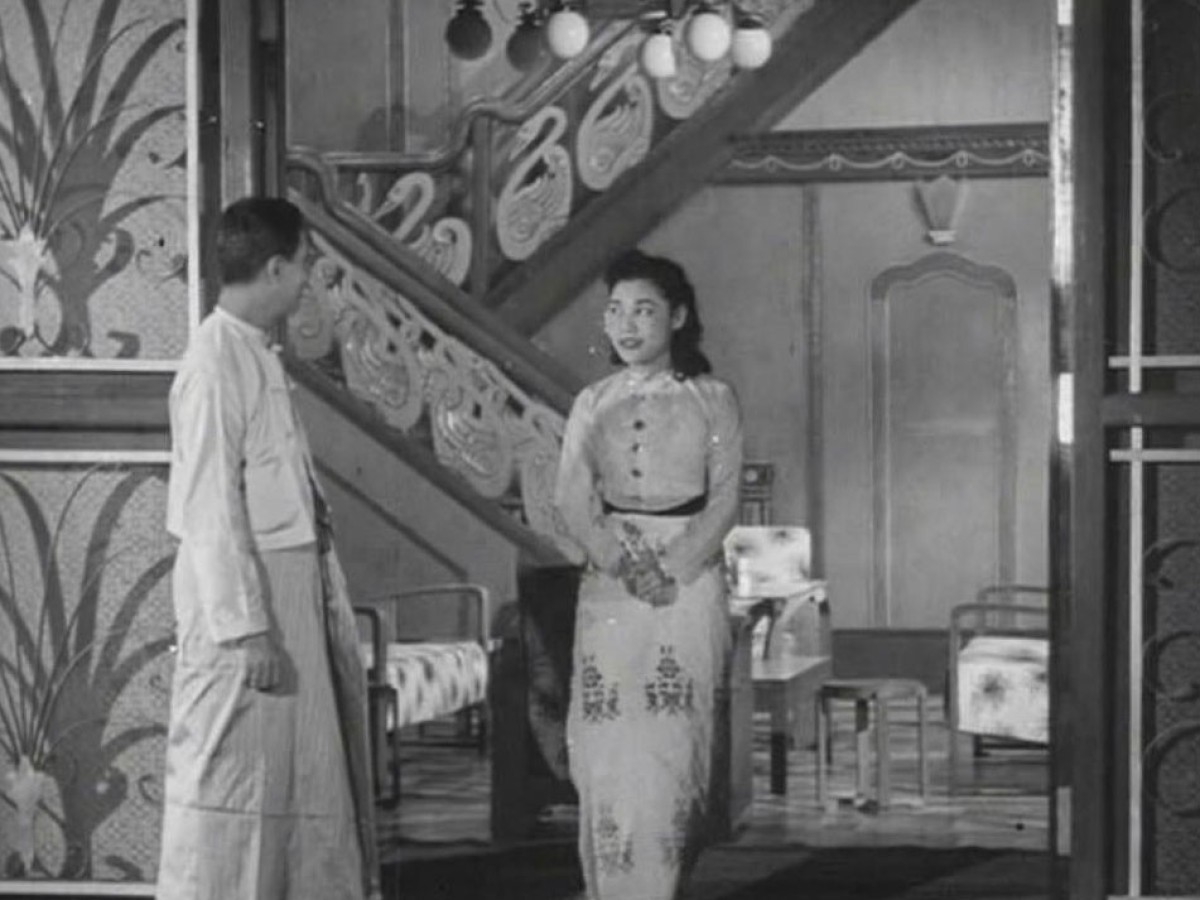 Yadanabon/Treasure Trove (1953)
Regie: Tin Maung; Darsteller: Tin Maung, Kyi Kyi Htay, Tin Tin Mu (und weitere Mitglieder der Familie von Tin Maung). 35 mm, sw, 119 min
Ein Familiendrama aus der Oberschicht, das traditionelle Regeln und Werte erforscht. Als Vorlage für
Yadanabon
diente der gleichnamige Roman von Shwe U Daung, der selbst wiederum auf dem in vielen Ländern und Kulturen für Kino und Theater adaptierten Roman
East Lynne
der viktorianischen Autorin Ellen Wood basiert. Diese 3340 Meter lange Kopie ist eines der wenigen erhaltenen Werke aus der Zeit, als die Filmindustrie Burmas – heute: Myanmar – zu den stärksten Asiens zählte. Der Film wurde 1957 beim Filmfestival von Karlovy Vary in der Tschechoslowakei gezeigt und die Kopie wurde dem nationalen Archiv übergeben, wie es damals willkommene Praxis war. Diese im Národní filmový archiv erhaltene Version war gekürzt, wahrscheinlich für den internationalen Festivaleinsatz. Die fehlenden Stellen – hauptsächlich lange Choreografien und Musikszenen – überleben nur auf Videokassette in der Heimat. Gewisse technische Mängel der Kopie sind typisch für die damalige Laborarbeit und die Filmproduktion der Region.
In Anwesenheit von
Michal Bregant
(Národní filmový archiv)
Courtesy of Národní filmový archiv
Story from the archive
: An upper-class family drama exploring the traditional set of rules and values, based on the eponymous novel by Shwe U Daung, an adaptation of the novel
East Lynne
by Victorian novelist Ellen Wood, a popular source of many adaptations for both stage and screen in various countries. This 3340-meter-long print is apparently one of few surviving works from the time when Burmese film industry was among the strong national industries in Asia. The film appeared in Czechoslovakia in 1957 to be shown at the Karlovy Vary International Film Festival and, as was customary at the time, the print was given to the archive. This version preserved by Národní filmový archiv had been shortened, most probably for the Karlovy Vary screening. The missing parts – mainly long choreographic and music scenes – survive on VHS tapes in Myanmar, where the film was released on television. The print shows many imperfections typical for the laboratory work of the time and reflecting the mode of production in early 1950s Myanmar.