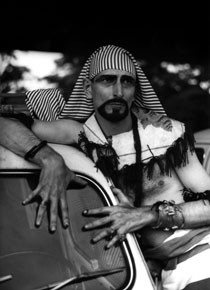 J. Hoberman: Performing Jack Smith
Midnight at the Plaster Foundation
(ca. 1971) von Jack Smith; mit Jack Smith, Abbe Stubenhaus. s/w, 18 min
Kino 74 – Jack Smith
(1974) von Birgit Hein; mit Jack Smith. Farbe, 10 min
The Whirled
(1956–63) von Ken Jacobs; mit Jack Smith. Farbe und s/w [Ausschnitt]
The Secret of Rented Island
(1977/97) von Jack Smith; Farbe [Ausschnitt]
Jack Smith, Performance-Künstler, noch bevor der Begriff geprägt wurde, brachte seine anarchische Spontaneität schon in den frühen Filmen von Ken Jacobs zum Ausdruck. Er trat bis in die 80er Jahre in Undergroundfilmen auf, seine Ein-Mann-Theaterstücke, die seine Arbeit in den 70ern prägten, wurden aber kaum dokumentiert. Das Video­band
Midnight at the Plaster Foundation
ist die einzig bekannte Aufzeichnung einer solchen Loft-Performance.
Kino 74
, gedreht für den WDR, zeigt Smith im Kostüm und mit einer Manifestrede an die Bewohner des Kölner Zoos.
The Secret of Rented Island
gibt einen Eindruck von Smiths vielleicht größter Theaterarbeit, einer ­radikal-pragmatischen Inszenierung von Ibsens
Gespenster
.
J. Hoberman
war über 30 Jahre Filmkritiker der
"Village Voice". Zu seinen Büchern zählen u. a.
"On Jack Smith's Flaming Creatures (and other Secret-Flix of Cinemaroc)" und zuletzt
"Film After Film: Or, What Became of 21st Century Cinema?"
Vortrag in englischer Sprache