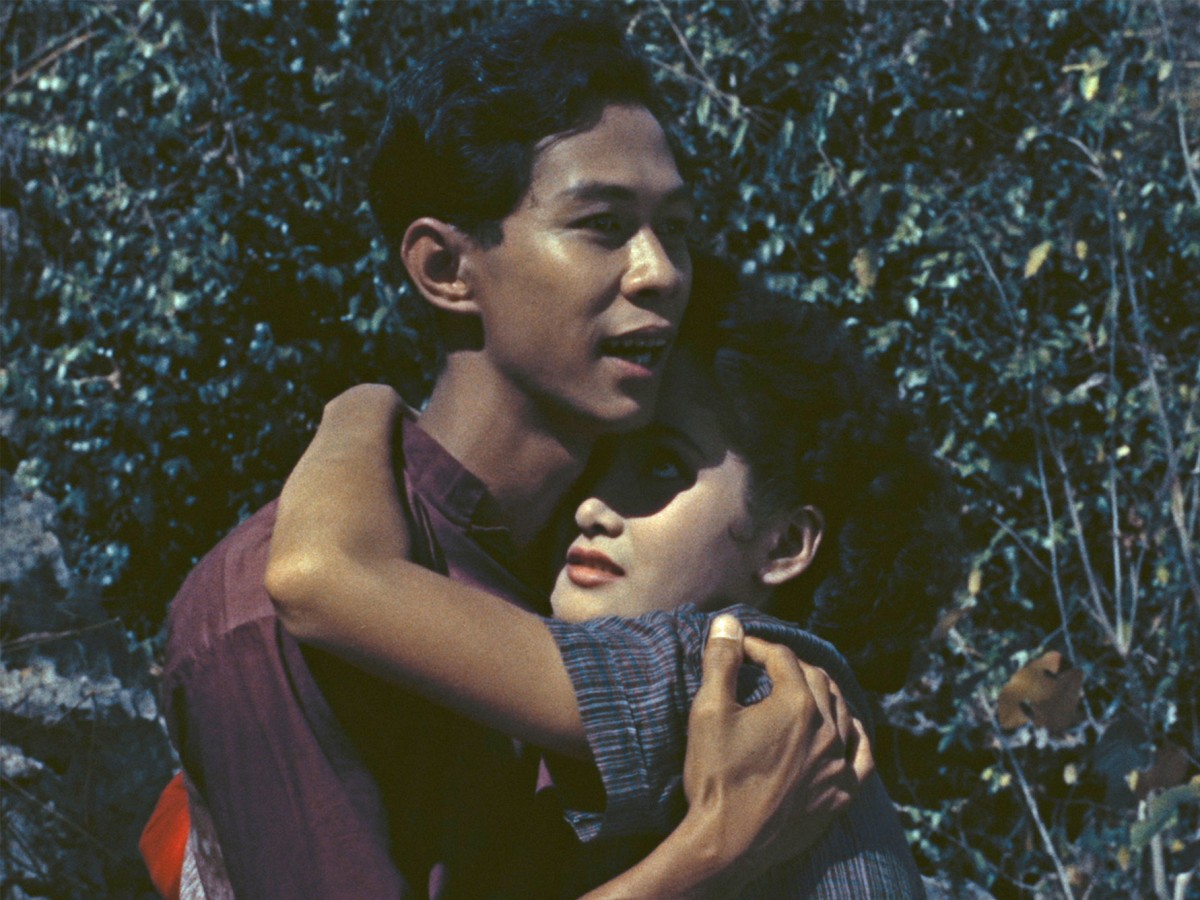 Santi-Vina (1954)
Regie: "Marut" (Thavi Na Bangchang); Drehbuch: Robert G. North sowie Thavi Na Bangchang und Vichit Kunavudhi (Dialoge); Kamera: R.D. Pestonji; Musik: Nath Tavorabutr; Darsteller: Poonpan Rangkhavorn, Rayvadi Siriwilai. 35mm, Farbe, 117 min
Die Geschichte eines karmischen Dreiecks, das drei Leben zusammenbringt. Der arme, blinde Junge Santi lebt bei seinem Vater. Seine Freundin Vina versucht ihn aus Mitleid vor den Schikanen Krais zu bewahren. Schließlich wird Santi vom Vater zu einem Mönch geschickt, in der Hoffnung, dass er durch die Lehren Buddhas wieder sehend wird, wenn er sein Karma durch gute Taten verbessert. Als Erwachsene werden Santi und Vina ein Paar, was Krais Eifersucht erregt ...
Santi-Vina
war der erste 35mm-Farbfilm Thailands – und der erste, der internationales Aufsehen erregte (sowohl Kameramann R.D. Pestonji wie Ausstatter Urai Sirisombat erhielten den Golden Harvest Award). Lange glaubte man, dass nur eine schlechte 16mm-Kopie überlebt hatte, doch 2014 wurde das Originalnegativ im BFI gefunden, dazu Verleihkopien im China Film Archive sowie beim Gosfilmofond, die zur Rekonstruktion der Schnittfolge und der digitalen Wiederherstellung des originalen Farbschemas dienten.
Courtesy of Film Archive Thailand
Story from the archive
: The story of a karmic triangle which bound three lives together. Santi, a poor 10-year-old blind boy, lives with his father. Vina, his friend, takes a pity on him and tries to protect him from the bullying of Krai. Santi's father sends him to stay with Luang Ta, a respectable monk, hoping that Santi will learn the lessons of Buddha and regain his eyesight from the karma reaped by doing good deeds. As grown-ups, Santi and Vina become lovers, which incites Krai's jealousy...
Santi-Vina
was the first Thai feature film shot in 35mm color and the first Thai feature film to gain international recognition. For a long time, a 16mm print in poor condition was considered to be the only surviving element. However, in 2014, the original materials were found at the British Film Institute, as well as two release prints, one at the China Film Archive and one at the Gosfilmofond in Russia, which enabled a 4K restoration of the film.