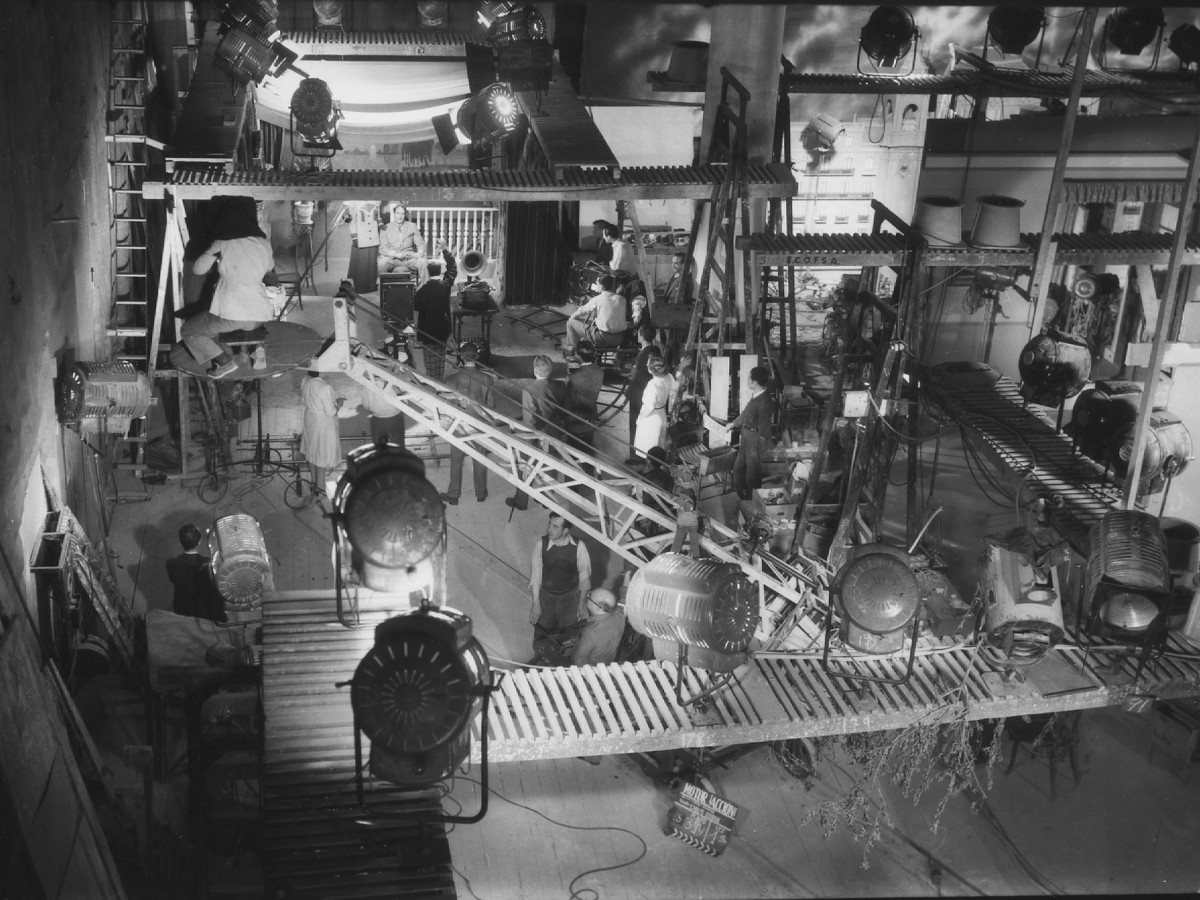 Vida en sombras (Leben im Schatten) (1948–1952)
Regie: Llorenç Llobet Gràcia; Drehbuch: Victorio Aguado, Lorenzo Llobet-Gràcia; Kamera: Salvador Torres Garriga; Musik: Jesús García Leoz; Darsteller: Fernando Fernán Gómez, María Dolores Pradera, Félix de Pomés, Isabel de Pomés, Alfonso Estela. 35mm, sw, ca. 80 min
Vida en sombras
nimmt eine Sonderstellung in der Geschichte des Katalanischen Kinos ein. Die Wurzeln von Llorenç Llobet Gràcia liegen im Amateurfilm der 1930er, der die Reinheit des Kinos suchte. Die vielgelobte Modernität seines einzigen Langspielfilms liegt in der Darstellung der Cinephilie, einer Kinoleidenschaft, die er
bigger than life
und
avant la lettre
darstellte. Dieses Meisterwerk überstand unbeschadet, dass es für 30 Jahre in völlige Vergessenheit geriet, bis die Filmoteca Española 1982 eine erste Restaurierung durchführte. Exakt drei Dekaden später wählte es die Filmoteca de Catalunya als den ersten Spielfilm, den sie digital restaurierte. Der Fluch, der gerüchteweise auf dem Film lastete, ist gebannt – durch diejenigen unter uns, die das Kino lieben.
Vida en sombras
ist zurück, um ein neues, fernes Publikum anzuziehen, das vom Kino so verzaubert ist wie wir.
In Anwesenheit von
Mariona Bruzzo i Llaberia
(Filmoteca de Catalunya) am 14.12.
Courtesy of Filmoteca de Catalunya
Story from the archive: 
Vida en sombras
 (
Life in Shadows
) (1948–1952) holds a special place in the history of Catalan cinema. Llorenç Llobet Gràcia's beginnings are rooted in 1930s amateur film, which sought the purity of cinema. Its acclaimed modernity lies in depicting cinephilia, a bigger-than-life passion for cinema, avant la lettre. This masterpiece overcame the 30 years of oblivion it initially suffered thanks to Filmoteca Española, which carried out the first restoration of the film in 1982. Three decades later, in 2012, Filmoteca de Catalunya chose it as the first feature film it would digitally restore. The curse that was rumoured to haunt the film has been dispelled by those of us who love cinema.
Vida en sombras
is here to attract new, far-away audiences who feel just as bewitched with cinema as we do.