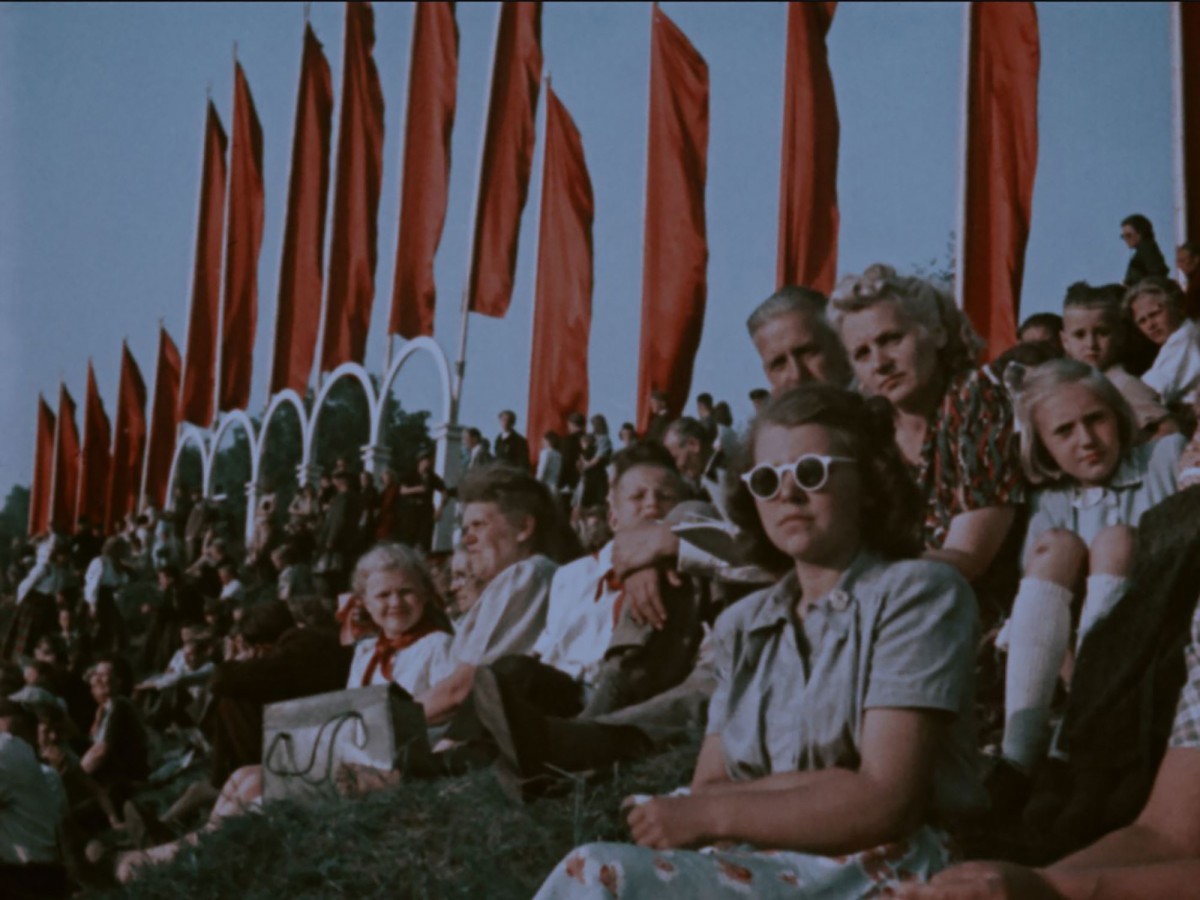 FIAF-Kurzfilmprogramm 3: Estnische Entdeckungen
Laentatud naene (Die geborgte Frau)
(1913)
Anonym. 35mm, sw, ca. 20 min
Tallinna turg (Markt in Tallinn)
(1926)
Anonym. DCP (von 35mm), sw, 3 min
Ajalehe sünd (Die Geburt einer Zeitung)
(1935)
von Eduard Jürisson-Vallaste. DCP (von 35mm), sw, 14 min (Estnische ZTmeU)
Laulev rahvas (Die singende Nation)
(1947)
von Nikolai Komarevtsev. DCP (von 35mm), Farbe, 42 min (Estnnische OmeU)
Dieses Programm stellt eine Leistungsschau des Estnischen Filmarchivs in den letzten Jahren dar.
Die geborgte Frau
wurde 2014 von Peter Bagrov im Gosfilmofond als der älteste überlebende Spielfilm Estlands identifiziert, 2017 wurde diese Rarität dem estnischen Publikum in seiner originalen Filmform wieder zugänglich gemacht. Die optischen Tricks, die Kameramann Konstantin Märska bei
Markt in
Tallinn
anwendete, wurden erst nach der Digitalisierung des Films 2011 entdeckt.
Die Geburt einer Zeitung,
ein humoristischer »Kulturfilm«, den der estnisch-finnische Kameramann Armas Hirvonen fotografierte, erreichte unser Archiv 2009 nach einer Reihe von glücklichen Zufällen und wurde 2011 digitalisiert. Der erste professionelle Farbfilm Estlands
Die singende Nation
schien nur in Schwarzweiß überlebt zu haben, erst 2014 konnte er dank einer wiederentdeckten Farbkopie in seinem originalen bunten Glanz restauriert werden.
In Anwesenheit von
Eva Näripea
(Rahvusarhiivi filmiarhiiv)
Courtesy of Rahvusarhiivi filmiarhiiv
This programme presents a series of shorts that demonstrate the various recent preservation efforts of the Estonian Film Archive. Preservation and distribution elements of
The Borrowed Wife,
identified in 2014 by Peter Bagrov in Gosfilmofond as the earliest surviving narrative film shot in Tallinn, arrived in Estonia in 2017 in order to make this rarity accessible to Estonian audiences in its original film form. The optical tricks performed by Konstantin Märska in
Tallinn Market
were revealed only after the film was digitized in 2011.
The Birth of a Newspaper,
a humorous 'Kulturfilm' by Estonian-Finnish cinematographer Armas Hirvonen, reached the archive as a result of a series of lucky coincidences in 2009 and was digitized in 2011. Finally,
The Singing Nation
was restored to its initial, colourful glory in 2014.