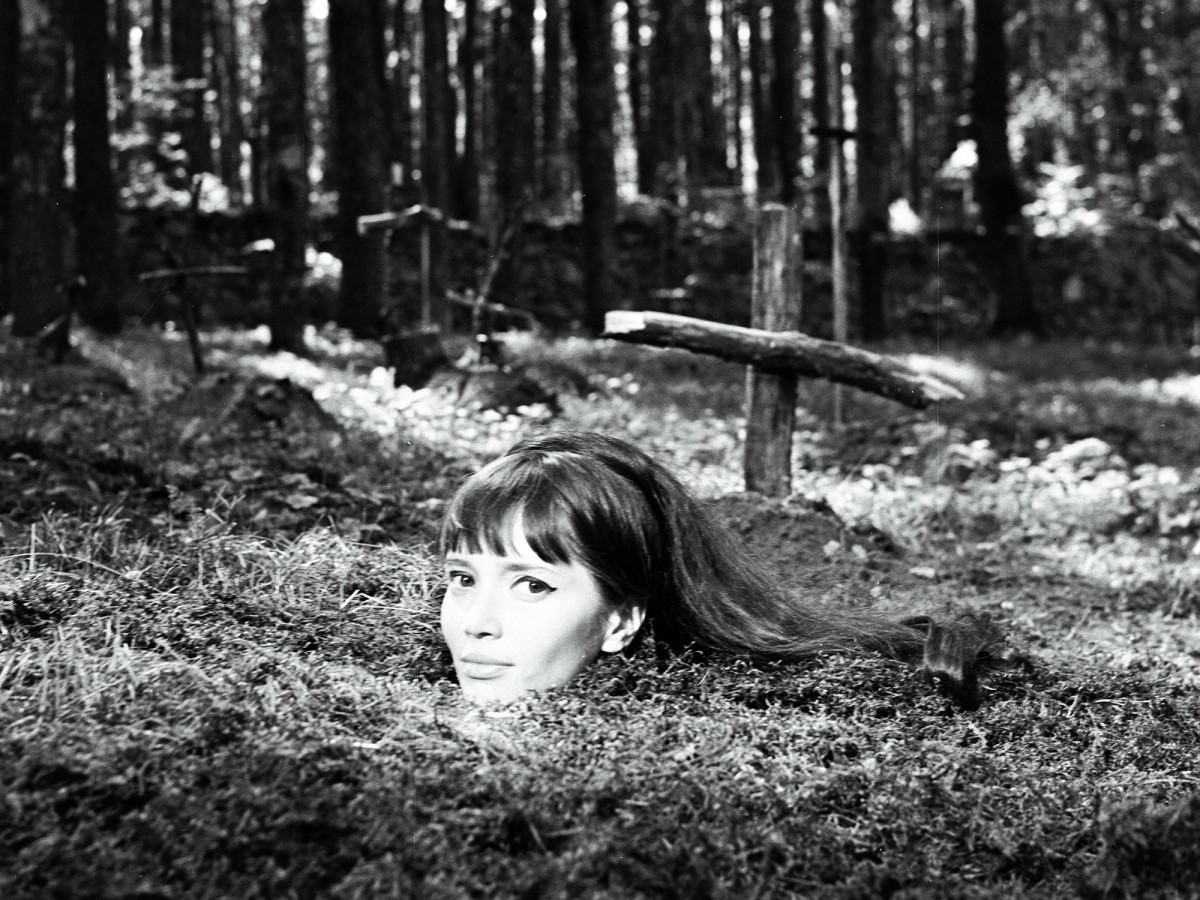 Hullumeelsus (Wahnsinn) (1968)
Regie: Kaljo Kiisk; Drehbuch: Viktors Lorencs; Kamera: Anatoli Zabolotski, Andrei Dobrovolski; Musik: Lembit Veevo; Darsteller: Jüri Järvet, Vaclovas Blēdis, Valeri Nosik, Bronius Babkauskas, Voldemar Panso, Mare Garšnek, Viktor Pljut. 35mm, sw, 79 min
Dieser schneidend antitotalitäre Film entstand unter den zunehmend beunruhigenden soziopolitischen Bedingungen der späten 1960er und wurde von der sowjetischen Kinoadministration heftig abgelehnt, was dazu führte, dass dieses Meisterwerk fast zwei Jahrzehnte für den Verleih gesperrt blieb. Auch wenn die originalen Filmelemente von ideologisch unliebsamen Werken normalerweise nicht von Vernichtung in der Sowjetunion bedroht waren, entschied sich die Leitung des Tallinnfilm-Studios in diesem Fall auf Nummer sicher zu gehen. Anstatt die eingelagerten Duplikate im Studioarchiv zu behalten (gemäß der gängigen Praxis, als das republikanische Filmarchiv der Estnischen Sozialistischen Sowjetrepublik eine Unterabteilung des lokalen Staatsarchivs war), entschloss man sich, sie buchstäblich zu verstecken.
Wahnsinn
ist beispielhaft dafür, wie das Estnische Filmarchiv immer wieder als sicherer Hafen für kontroverse Erbstücke diente.
In Anwesenheit von
Eva Näripea
(Rahvusarhiivi filmiarhiiv)
Courtesy of Rahvusarhiivi filmiarhiiv
Story from the archive
: Made in the increasingly anxious socio-political conditions of the late 1960s, this piercingly anti-totalitarian film was strongly disapproved by the Soviet cinema administrators who suppressed the distribution of this masterpiece for almost two decades. Although the original elements of ideologically suspicious films were typically not in danger of annihilation in the Soviet Union, in this case the management of Tallinnfilm studio decided to play it safe. Rather than keep the duplicate elements in the studio's storage, which was common practice at a time when the republican film archive of Estonian SSR was still just a department of the local State Archives, the studio chose to literally hide them in the archives. Madness exemplifies the way the Estonian Film Archive has time and again served as a safe haven for controversial pieces of heritage.