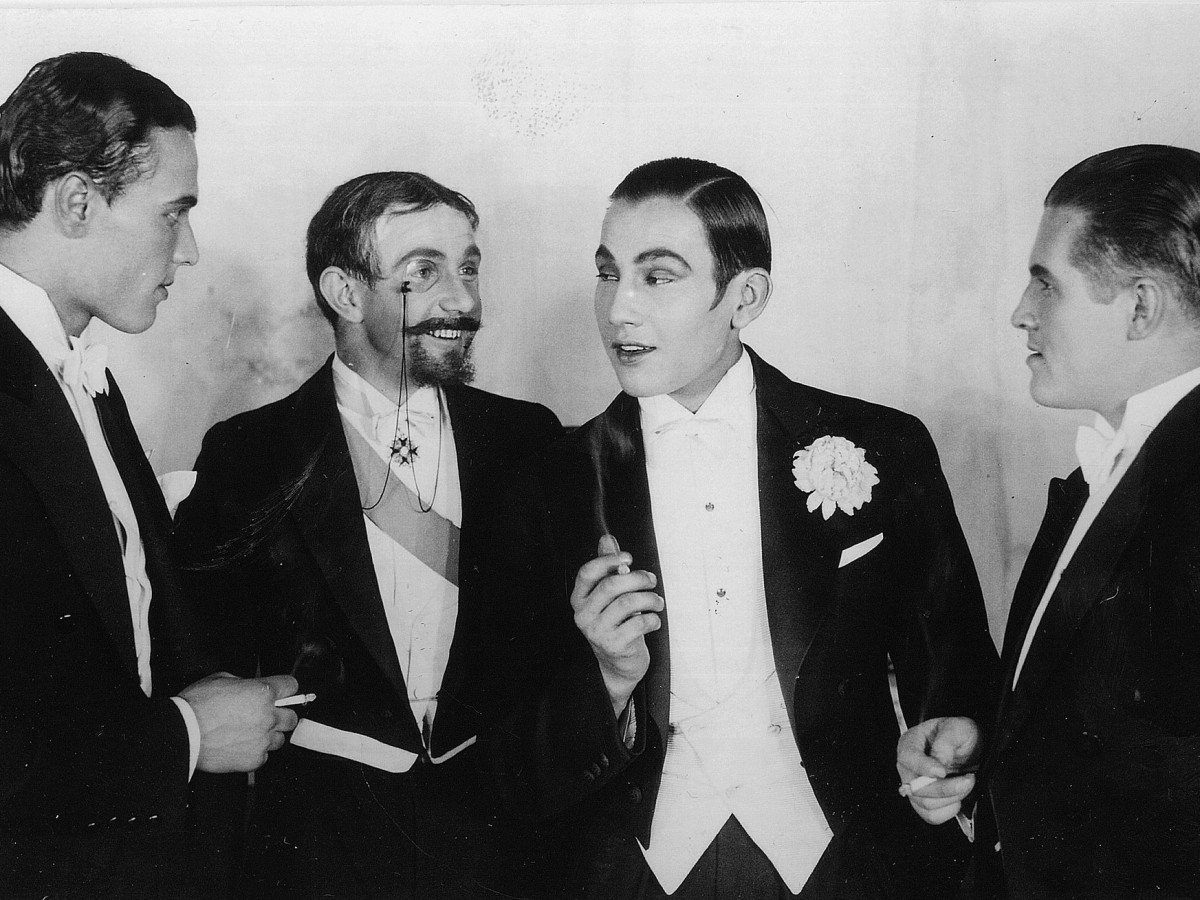 Laveata tietä (Der breite Weg) (1931)
Regie, Drehbuch: Valentin Vaala; Kamera: Oscar Lindelöf; Musik: Tapio Ilomäki; Darsteller: Theodor Tugai (Teuvo Tulio), Eeva Virtanen, Alli Riks, Kaarlo Penttilä, Hanna Taini, Väinö Kangas. DCP (von 35mm), Farbe, 96 min
Laveata tietä
war der dritte Film von Valentin Vaala und seinem Hauptdarsteller, dem angehenden Regisseur Teuvo Tulio: zwei junge Kosmopoliten mit einer großen Kinoleidenschaft. Vaala liebte Lubitsch, während man Tulio den finnischen Valentino nannte. Der Titel des Films bezieht sich auf die Bergpredigt: "Der Weg ist breit, der zur Verdammnis führt." Vaala gestaltet ein Kino der schönen Oberflächen: schnelle Autos, elegante Kostüme, Neonlichter und Jazz. Einige Interieurs scheinen nur gemalte Hintergründe zu sein, was den Eindruck der Oberflächlichkeit der Ideale des Protagonisten verstärkt: Lardozzo, ein Playboy, der unwiderstehlich auf Frauen wirkt und sowohl Violinen-Virtuose wie auch Skisprung-Meister ist. Er ist vom Erfolg verwöhnt, aber am Weihnachtabend muss er sich seiner inneren Leere stellen.
Courtesy of Kansallinen audiovisuaalinen instituutti
Valentin Vaala and Teuvo Tulio were two young cosmopolitans passionate about cinema, and
The Broad Way
was their third film. Vaala loved Lubitsch while Tulio was dubbed the Finnish Valentino. The title of the film comes from the Sermon on the Mount: "Broad is the way that leads to destruction." This is a cinema of beautiful surfaces: fast cars, elegant costumes, Art Deco interiors, neon lights, and jazz. Some interiors seem to be just painted backdrops, which only serves to heighten the sense of the superficiality of the protagonist's ideals. The playboy Lardozo is irresistible to women, and a virtuoso violinist as well as a ski jumping champion. He reaps success but confronts his inner emptiness on Christmas Eve.