The Utopia of Film:
In Memory of Chantal Akerman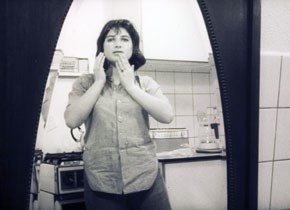 Chantal Akerman (June 6, 1950 to October, 5 2015)
Each Tuesday
The Utopia of Film
is a series of chapters – a sequence of constellations and questions which change on a monthly basis. Each chapter contains several films. The selected works are capable of standing on their own with their individual qualities, but the totality of each chapter also provides a specific context.
The Utopia of Film
tells a
history of films
in their relation to each other and to society.
In "The Utopia of Film" series, three Tuesdays are dedicated to the memory of Chantal Akerman, who passed away on October 5 this year. Four major works from the early period of her oeuvre will be shown: Saute ma ville (1968) and Je tu il elle (1974) on December 8, News From Home (1977) on December 15, along with Toute une nuit (1982) on December 22. 
Reduced tickets (3,00 €) are available for students with a valid membership.
Related materials