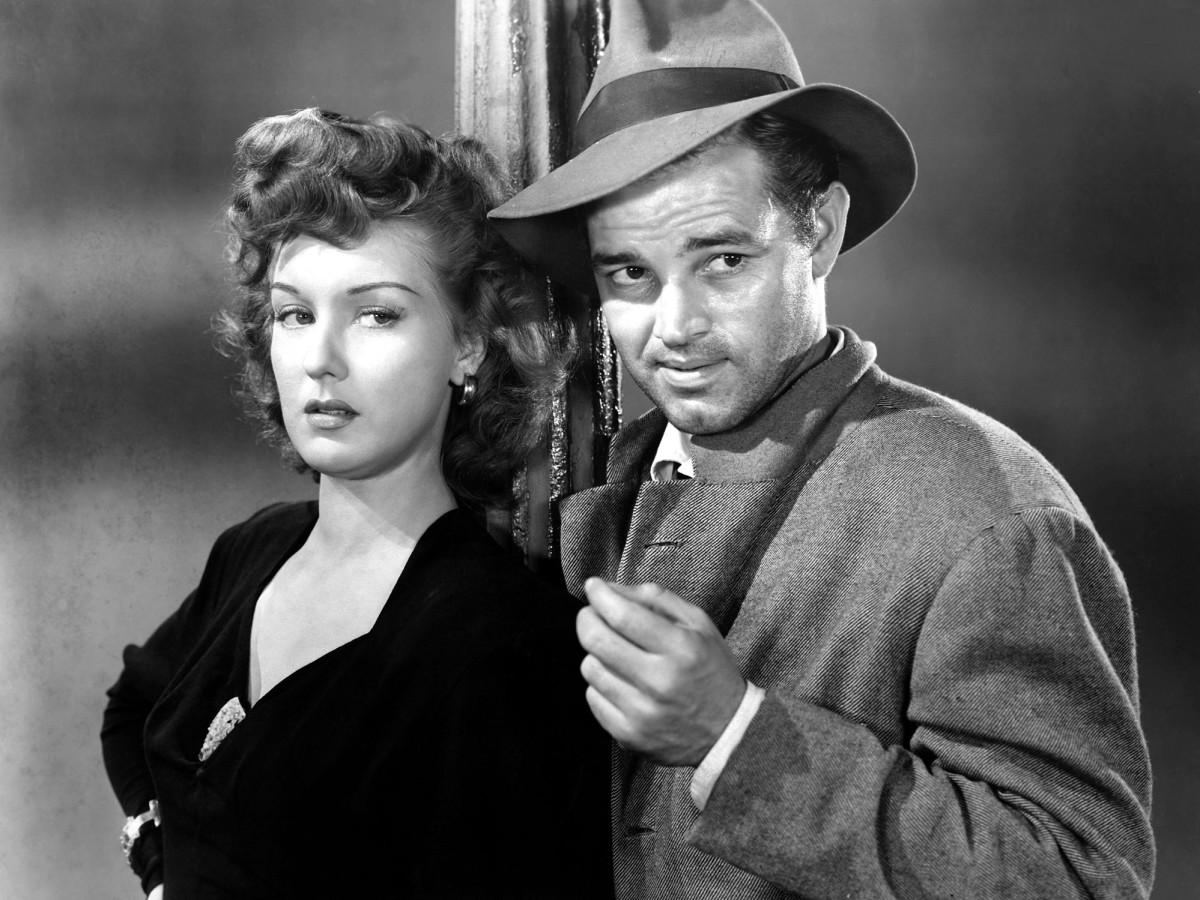 Double Feature
Detour (1945)
Studio: Producers Releasing Corporation (PRC); Regie: Edgar G. Ulmer; Drehbuch: Martin Goldsmith; Kamera: Benjamin H. Kline; Musik: Leo Erdody; Darsteller: Tom Neal, Ann Savage, Claudia Drake, Edmund MacDonald, Tim Ryan, Esther Howard, Pat Gleason. 35mm, sw, 63 min*
The Devil Thumbs a Ride (1947)
Studio: RKO; Regie, Drehbuch: Felix E. Feist nach dem Roman von Robert C. DuSoe; Kamera: J. Roy Hunt; Musik: Paul Sawtell, Roy Webb; Darsteller: Lawrence Tierney, Ted North, Nan Leslie, Betty Lawford, Andrew Tombes, Harry Shannon, Glen Vernon. 35mm, sw, 63 min**
Detour
ist eines der verstörendsten Meisterwerke in der Geschichte Hollywoods, ein Z-Movie, das als Schauplätze karge Motelzimmer, Imbissbuden und vor allem die halluzinatorisch irreale Rückprojektion endloser Straßen zu bieten hat sowie einen schmierigen Katatoniker als "Star". Eine Umleitung ins Verderben, ein vom flehenden und höchstwahrscheinlich erlogenen Voiceover seines armseligen Helden vorwärts getragener
Noir
: Auf dem Weg nach Hollywood, zu seiner Geliebten, gerät der Nobody in ein Labyrinth fataler "Unglücksfälle", das in Ulmers minimalistischer Gestaltung zu einem illusionslosen Schattenbild der kapitalistischen Gesellschaft wird. In
The Devil Thumbs a Ride
nimmt ein junger Verkäufer einen Anhalter mit, der zuvor einen Mann getötet hat. Der Fahrer wird dazu gebracht, zwei junge Frauen in ein leer stehendes Strandhaus zu bringen ... Die Spannung entsteht aus der Frage, wie weit der Autostopper in seiner Amoralität und Gewaltbereitschaft gehen wird – ziemlich weit, wie sich herausstellt. Regisseur Felix E. Feist arbeitet sehr effizient mit spärlichen Mitteln, setzt auf klaustrophobische Atmosphäre und Kultakteur Lawrence Tierney. (C. H./C. F.)
Begrüßung zur Eröffnung der Retrospektive durch Viennale-Direktorin
Eva Sangiorgi
am 26.10.
*Print courtesy of Harvard Film Archive
**Print courtesy of British Film Institute
Freier Eintritt für Fördernde Mitglieder am 26.10.
Aus dem Katalog zur Retrospektive:
In 1595 Montaigne wrote "The thing I fear most in the world is fear ..." In
Detour
Edgar G. Ulmer traces fear in its more caustic representation. Tom Roberts, played somberly by Tom Neal, somewhere at the start of the film utters the phrase: "Fate sticks out a foot to trip you ..." Roberts' fate will be meeting in labyrinthine ways, Vera, wonderfully portrayed by Ann Savage. Fate will become the constant and mounting fear that fears itself. Fate will become a nightmare of infinite proportions that agglutinates the very dark story that we are horribly being told. This film, one of the most disturbing pieces that I saw in my youth after persecuting it in every film club in Mexico, influenced by the recommendation of some of the iconic members of the French Nouvelle Vague, left a profound impression in me. The morbid pace, ominous and rather slow, the pace of nightmares, gave me reason to try as I could to envelop my movies with the notion of the nightmare, of the force of fate and the occurrence of omnipresent fear. I have many times, humbly and modestly, paid homage (which is a rather inadequate way of saying that I steal stuff from the Master) to the great and toxic Edgar G. Ulmer. (Arturo Ripstein)
The setup is simple: alone on a long road trip home at night, a naive young salesman gives a ride to a hitchhiker whom the audience has just seen kill a man in a hold-up. The salesman lets the hitchhiker manipulate him into picking up two young women and bringing them to an unoccupied beach house the salesman knows about. The suspense comes from wondering how far into amorality and violence the hitchhiker – and also the film
–
will go; this turns out to be rather far. The director, Felix E. Feist, makes good use of his sparse materials. Like Edgar G. Ulmer's
Detour
, this is a film that takes place largely in a car and a room and that is thoroughly immersed in the fleeting and nocturnal sociality of the American road.
The Devil Thumbs a Ride
is dominated by Lawrence Tierney, with his unreadable, handsome sourness and his flat, relentless intonation of a continuous stream of orders, insinuations, and rationales that – in the nightmare state of mind that the film imposes on its characters and on the viewer – seem just barely plausible enough to make everyone bend mindlessly to his will. (Chris Fujiwara)