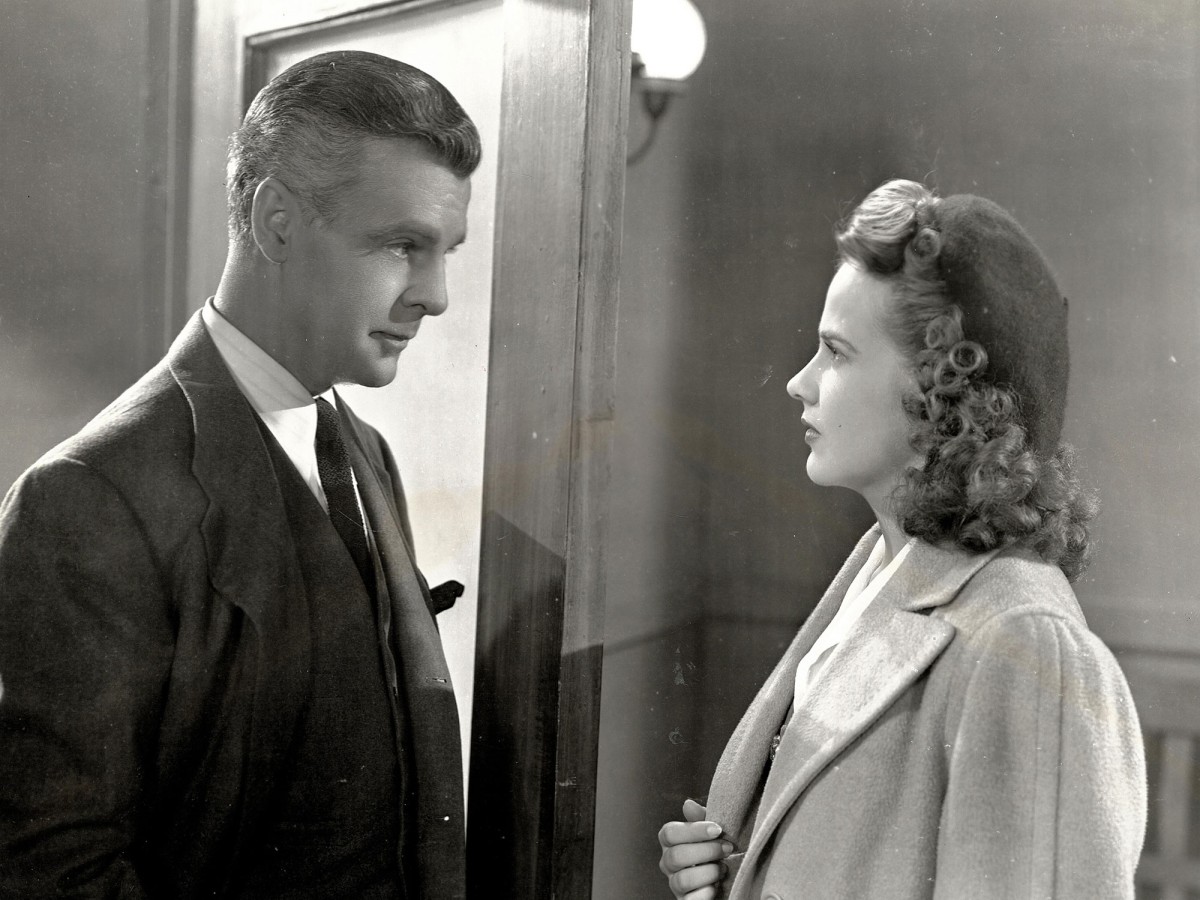 Double Feature
When Strangers Marry [Betrayed] (1944)
Studio: Monogram Pictures (Monogram); Regie: William Castle; Drehbuch: Philip Yordan, Dennis J. Cooper, George Moskov; Kamera: Ira H. Morgan; Musik: Dimitri Tiomkin; Darsteller: Dean Jagger, Kim Hunter, Robert Mitchum, Neil Hamilton, Lou Lubin, Milton Kibbee, Dewey Robinson. 16mm (von 35mm), sw, 67 min*
Dr. Broadway (1942)
Studio: Paramount; Regie: Anthony Mann; Drehbuch: Art Arthur nach dem Roman von Borden Chase; Kamera: Theodor Sparkuhl; Musik: Robert Emmett Dolan, Paul Sawtell; Darsteller: Macdonald Carey, Jean Phillips, J. Carrol Naish, Richard Lane, Eduardo Ciannelli, Joan Woodbury, Arthur Loft. 35mm, sw, 68 min
Orson Welles bewunderte
When Strangers Marry
: "Ich glaube, Sie werden mir zustimmen, dass dies einer der packendsten und wirkungsvollsten Filme des Jahres ist. Nicht so gekonnt wie
Double Indemnity
und nicht so strahlend wie
Laura
, aber besser gespielt und besser inszeniert als beide." In nur 67 Minuten wird die Blitzhochzeit einer Frau mit einem Handlungsreisenden erzählt, der danach verschwindet. Mit ihrem Exfreund – der junge Robert Mitchum als mehrdeutiger Held – sucht sie nach dem Ehemann, der möglicherweise ein Serienmörder ist. Kim Hunter irrt durch unheimliche Stadtszenerien wie eine Art
Noir
-"Alice in Underworld"; manche Szenen muten wie animierte Bilder von Edward Hopper an. Anthony Manns Debütfilm ist eine Mystery-Komödie, in dem
Dr. Broadway
zufälliger Retter für hilflose Opfer wird, die vor seiner Haustür landen. So kümmert er sich um eine junge Frau, die Selbstmord begehen möchte und engagiert sie als Assistentin, um die vermisste Tochter eines Ex-Gangsters aufzuspüren, den er vor langer Zeit ins Gefängnis geschickt hatte. Das bringt ihm eine Mordanklage ein … Als Auftakt einer Serie gedacht, wurde
Dr. Broadway
zwar zu einer schwindelerregenden Achterbahnfahrt, blieb jedoch ohne Fortsetzung. (H. G.)
*Print courtesy of Harvard Film Archive
Aus dem Katalog zur Retrospektive:
Orson Welles was an outspoken admirer of this compact B-noir classic by William Castle (later an assistant director on
The Lady From Shanghai)
, a taut and suspenseful sixtyseven minute story of a nubile bride arriving in New York City to meet the traveling salesman she hastily and very recently married before his abrupt and, in retrospect, strange departure. In her hotel she finds not her husband but, by uncanny coincidence, an old flame crestfallen to learn of her spontaneous marriage, a forgiving but oddly brooding type played by Robert Mitchum in a pivotal early role that first revealed his talents as an ambiguous hero. Together the bride and ex-lover search for the missing groom, discovering clues along the way that suggest he may be the ruthless "Silk Stocking Murderer."
When Strangers Marry
offered an early role for a radiantly young Kim Hunter who wanders through a haunted city of beckoning signs and sinister figures like a noir Alice in Underworld Land. An arresting scene of the frightened, lonely Hunter, alone in her dingy hotel room while honky-tonk music and pulsing lights beckon, mysteriously unfolds like an animated Edward Hopper canvas. (Haden Guest)
Anthony Mann's debut feature is a brisk mystery-comedy that follows Macdonald Carey as a physician whose office along the Great White Way makes him an unlikely savior and sleuth of the helpless victims and strange mysteries that land on his doorstep; or on nearby high building ledges, because it is there that he rescues a young woman seemingly about to commit suicide and then promptly hires her as his secretary and assistant on his improbable first case, tracking down the missing daughter of an ex-gangster who he long ago sent to jail. When the Doctor is accused of the ex-con's murder the stakes are dramatically raised. Meant to be the first of a character-based series,
Dr. Broadway
is a giddy and delightful rollercoaster of a film that packs more plot into its short running time than it probably should. Despite Mann's impressive ability to weave together the crazy story lines while maintaining a nail-biting tension,
Dr. Broadway
did not convince Paramount to invest in further adventures. (Haden Guest)