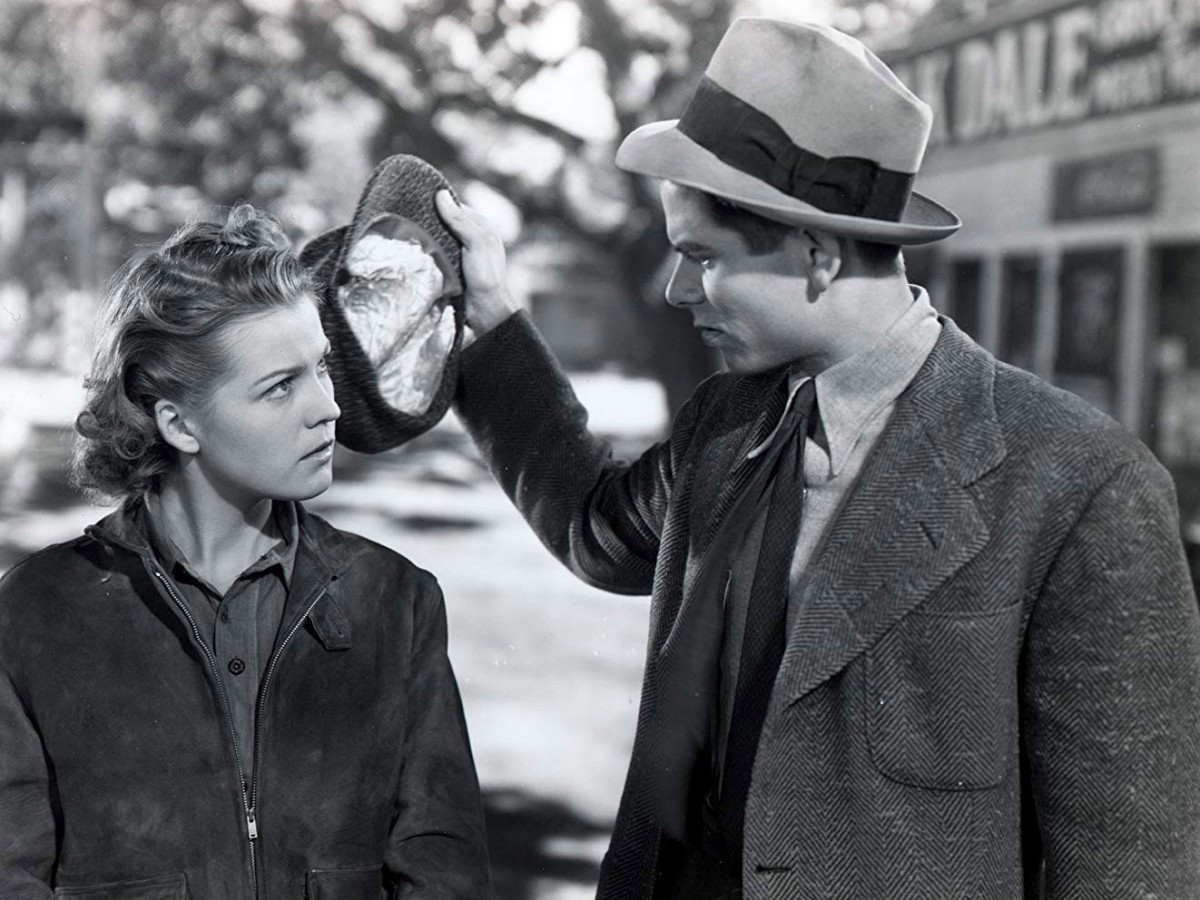 Double Feature
Heaven with a Barbed Wire Fence (1939)
Studio: Fox; Regie: Ricardo Cortez; Drehbuch: Dalton Trumbo, Leonard Hoffman, Ben Grauman Kohn, Sam Duncan; Kamera: Edward Cronjager; Musik: Samuel Kaylin; Darsteller: Jean Rogers, Raymond Walburn, Marjorie Rambeau, Glenn Ford, Richard Conte, Eddie Collins, Ward Bond. 35mm, sw, 62 min
Persons in Hiding (1939)
Studio: Paramount; Regie: Louis King; Drehbuch: William R. Lipman, Horace McCoy nach dem Buch von J. Edgar Hoover; Kamera: Harry Fischbeck; Musik: John Leipold, Floyd Morgan, Leo Shuken; Darsteller: Lynne Overman, Patricia Morison, J. Carrol Naish, William Henry, Helen Twelvetrees, William Frawley, Judith Barrett. 16mm (von 35mm), sw, 67 min*
Sowohl Glenn Ford als auch Richard Conte gaben in
Heaven with a Barbed Wire Fence
ihr Hauptrollen-Debüt. In dem Roadmovie quittiert ein optimistischer Träumer seinen Job, um per Daumen und Bahn in Richtung Westen zu reisen, wo ein Stück Natur, das er per Post gekauft hat, darauf wartet, in Farmland umgewandelt zu werden. Auf seiner pittoresken Reise trifft er unterschiedliche Leute, der Gedankenaustausch mit ihnen in Güterwägen oder an Hobo-Lagerfeuern schafft den komödiantischen Charme des Films und kontrastiert mit Dust-Bowl-Naturkatastrophen und Unfällen, die das bukolische Ideal bedrohen.
Persons in Hiding
entstand unter strenger Aufsicht von FBI-Chef J. Edgar Hoover bei Paramount als erster von vier B-Filmen, die tatsächliche Fälle in populäres Kino umwandelten. Am Skript arbeitete der erfolgreiche Schriftsteller und Drehbuchautor Horace McCoy mit, die Hauptrolle spielte das B-Starlet Patricia Morison. Ein Farmmädchen, so die Kinowerbung, wird zur Frau hinter einem Killer. Selbst im US-Heartland, so Hoovers Warnung, kann jedes Herz dasjenige der Finsternis sein. (H. G.)
*Print courtesy of Harvard Film Archive
Aus dem Katalog zur Retrospektive:
Marking the screen debuts of both Glenn Ford and Richard Conte (here Nicolas Conte),
Heaven with a Barbed Wire Fence
was one of seven films helmed for 20th Century Fox by actor turned director Ricardo Cortez, brother of cinematographer Stanley Cortez. A gently rambling road movie,
Heaven with a Barbed Wire Fence
follows an optimistic dreamer who quits his department store job to travel impatiently West, by thumb and by rail, to Arizona where a plot of land he purchased by mail waits to be transformed into a farm. Along the way he befriends Conte's garrulous drifter and, more unexpectedly, a Spanish Civil War exile played by serial-starlet Jean Rogers, with beloved handlebar moustached character actor Raymond Walburn tagging along as an absent-minded professor lending a comic accent to the spontaneous group dialogue. Much of the pleasure of the film lies, in fact, in those scenes of the unlikely group bonding in freight cars and besides hobo camp fires, sharing their dreams and musings on life on the road. But darker forces also gather around the edges of the film, with specters of Dust Bowl poverty and cruel accidents threatening to shatter the travelers' hopes for bucolic and greener pastures. (Haden Guest)
Law enforcement czar J. Edgar Hoover cannily understood the power of popular media to define the image of the federal bureau he effectively invented and ruled for almost four decades. In the 1930s Hoover turned to cinema as a publicity vehicle for his FBI, working with the studios to transform stories from the Bureau's own files into gripping narratives of crime and its swift punishment.
Persons in Hiding
is the first of four B-films made by Paramount under Hoover's close supervision and based on successfully closed FBI cases chronicled in his best-selling and eponymous book. Boasting a screenplay co-written by hard-boiled novelist Horace McCoy,
Persons in Hiding
balances its careful exposé of police procedure with a charged evocation of Depression-era struggle, embodied in the figure of an embittered hairdresser who impulsively embraces crime and a partnership with a petty hood as a means to obtain the status symbols she invidiously desires. The feature debut of little known B-starlet Patricia Morison,
Persons in Hiding
offers the farm girl
turned ruthless killer as an emblem of the criminality Hoover claimed to lurk everywhere, even within the dark shadows of the American heartland. (Haden Guest)