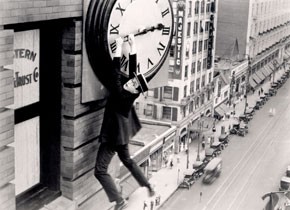 Beyond Buster
American Movie Comedians, 1923-36
December 15, 2012 to January 8, 2013
Beyond Buster is an excursion into the golden age of American film comedy, placing Keaton's career and accomplishments in the context of his era. The title given to this series of 30 films refers both to the many (famous or forgotten) late silent comedians whose work is concurrent with Keaton's major period, and to those who marked the years following his fall from grace. Some, like Chaplin and Laurel & Hardy, mastered the transition to sound much better than he did; others, like the Marx Brothers, Mae West or W.C. Fields, only found their true métier in the early talkie period. Around the mid-thirties, however, even these "late anarchists" became more and more restricted by the industrial and ideological consolidation of Hollywood. 
The most successful movie comedian of the 1920s was Harold Lloyd: the box office receipts of his "sensational comedies" – Safety Last! (1923), The Freshman (1925) and Speedy (1928), among others – far overshadowed those of Keaton and even Chaplin. The All-American Boywith horn-rimmed glasses, who, after dangerous stunts and cascades of gags, usually blossoms into an All-American Hero, is joined here by many other memorable performers. Most of them had learned their craft either at Mack Sennett's Keystone Factory or at the more refined "school" of producer Hal Roach. This league of comedians also includes "genius loners", such as the ex-cartoonist and trick inventor Charlie Bowers, and inspired imitators like Lupino Lane or Billy Bevan. 
Foremost among the "Sennett Men" was Harry Langdon (The Strong Man, 1926), an "eternal child" whose personality fluctuated between innocence and eeriness – and whose star shone as long as he could count on a congenial director, Frank Capra. Also, the now-forgotten Raymond Griffith, of whom only a few films survive; his masterpiece Hands Up! (1926, with Griffith playing an elegant spy during the American Civil War) is a wonderful companion-piece to Keaton's The General. The Hal Roach stable, on the other hand, is represented by Charlie Chase, who was also much in demand as a director (under his real name Charles Parrott), by the Berlin-born Jewish comedian Max Davidson, and by two pairs of comediennes: Anita Garvin & Marion Byron and Thelma Todd & ZaSu Pitts can be viewed as highly interesting cases of Roach "versioning" his hit duo Laurel & Hardy for female performers.