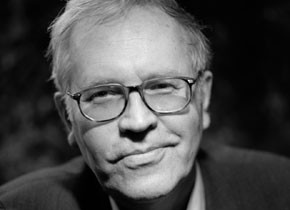 Finland – The Movie
With Peter von Bagh through the Finnish century
September 27 to October 15, 2014
The Austrian Film Museum mourns the passing of Peter von Bagh, who has died September 17, 2014 after a long illness.
A strange thing about Finland: It is a place of longing for many, yet there are few concrete aspects that we usually connect with it. Older generations might still think of it as "the land of a thousand lakes" (a successful tourism slogan); others may remember Finland as successful nation in sport – or as a dynamo of design, architecture, and mobile telephones.
 
However, "Nokias come and go, while psychiatric clinics remain." Peter von Bagh thus sums up the human condition when he talks about the town of Oulu, where he grew up as the son of a psychiatrist. Von Bagh, born in 1943, is an institution of Finnish cultural life – a film historian and director, book and music publisher, teacher and co-founder of the legendary Midnight Sun Film Festival, to name just a few of his areas of activity. Also, as a master of biting commentary, he has railed against any form of conformity in his native land for nearly half a century. Along with his master student, Aki Kaurismäki, von Bagh is the most striking Finnish presence in international cinema.
 
For the Austrian Film Museum, and in collaboration with Olaf Möller, Von Bagh has created a very personal parcours through Finnish cinema, reflecting his passions and assembling key works from the years 1937 to 2006. An additional selection of films from his own oeuvre help convey the "Benjaminian spirit" that animates this program.
 
The focus is on the classical studio era, which Von Bagh rediscovered over many decades. While Finland did not produce any significant silent films, there was a veritable explosion of creativity in the 1930s. With Valentin Vaala (Louisa, 1946), Finland produced an auteur of international stature, with Nyrki Tapiovaara (Juha, 1937), a singular modernist and with Teuvo Tulio (The Way You Wanted Me, 1944), a shining example of what Andrew Sarris used to call "Expressive Esoterica." This development is not surprising: spoken Finnish in all its dialectical variety was a decisive element in the creation of a national identity – and sound cinema made an important contribution to this process; at the same time, the wonderfully multi-faceted popular music of Finland could now be related to the public through cinematic means as well.

Thus, sound films brought further cultural emancipation, urgently needed by a country that was only founded in 1917 and immediately traumatized by civil war. This process of self-discovery tipped into crass chauvinism in the 1930s and made the country seek an uneasy proximity to Nazi Germany. SF-paraati (1939), a wonderful musical comedy directed by sound film pioneer Yrjö Norta, can be read as a document of the political anxieties prevalent during these years.
 
The ravages of the war (1939/40 and 1941-44) gave rise to a far more somber tone in the postwar years. Yet, while much seemed to herald a new beginning, there was still a considerable amount of continuity. It is represented, for instance, by the great filmmaker Ilmari Unho (Ten Boys From Härmä, 1950), who used to belong to an ultra-nationalist organization, was never sanctioned, and continued his career after 1945. His melodramas had lost none of their power, his comedies none of their wit.
 
Up to 1960, the studio world remained relatively intact. Minor masters like Ville Salminen (The Evacuated, 1956), whose son Timo later became Aki Kaurismäki's cinematographer, reached their peak while newcomers like the formidable Matti Kassila (Gas, Inspector Palmu!, 1961) seemed to assure the continuity of this film culture. Like everywhere else, however, television would soon take the place of cinema as the dominant arbiter of reality. With Mikko Niskanen, the industry produced one more major figure, announcing a new beginning with his masterpiece Eight Deadly Shots (1972) – but that was it. More typical of the "New Wave" which appeared in the late 1960s was Risto Jarva (One Man's War, 1973), who financed his personal, often socially-critical films by making commercials and sponsored films on the side. Jarva, in turn, was mentor to Peter von Bagh, indicating a genealogy which brings us back to the present-day viewpoint of this program... 
 
The retrospective has been organized with the kind support of the Finnish Embassy in Austria.