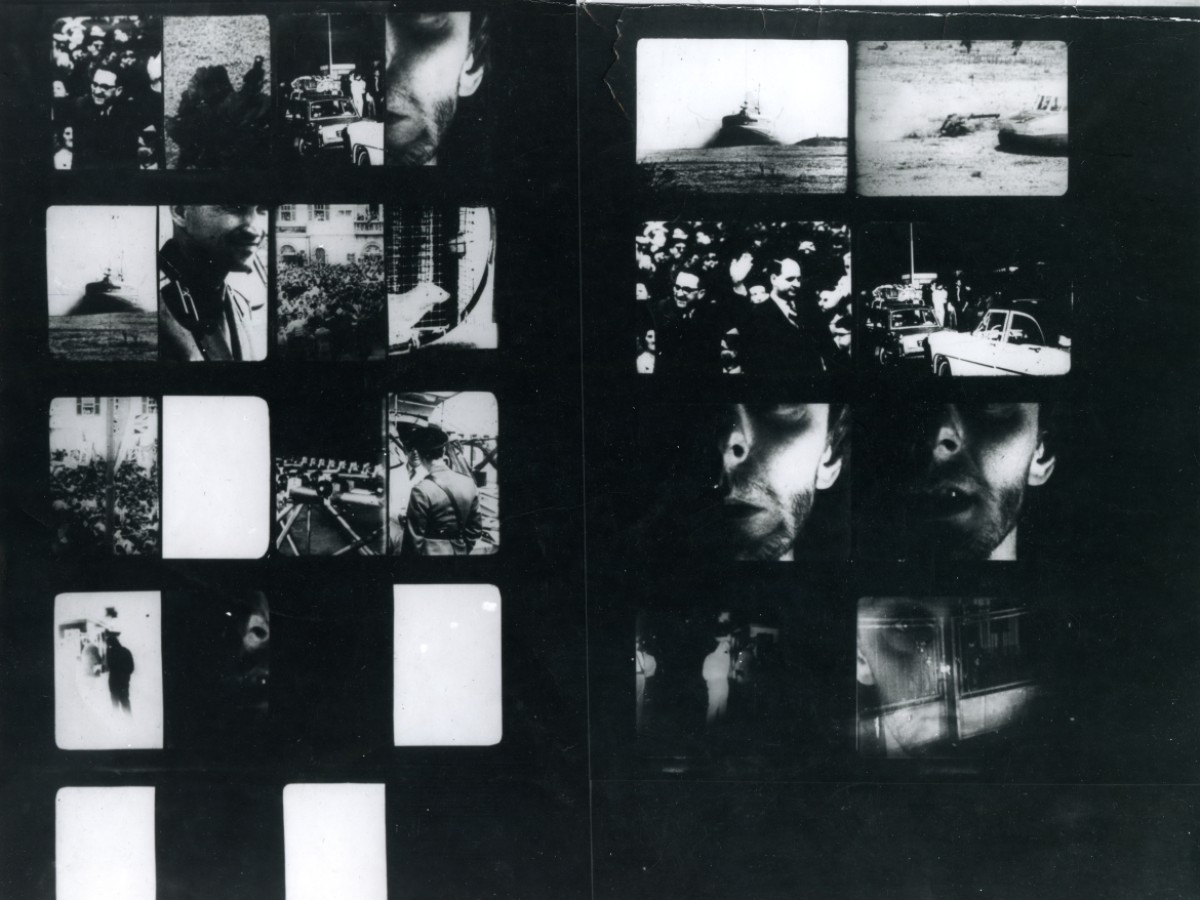 Double Screen Films
Castle Two (1968)
Malcolm Le Grice. 16mm, sw, 32 min
Play (1971)
Sally Potter. 16mm, Farbe und sw, 7 min
Choke (1971)
David Crosswaite. 16mm, Farbe, 5 min
Pan Film (1972)
Gill Eatherley. 16mm, sw, 8 min
River Yar (1971–72)
William Raban & Chris Welsby. 16mm, Farbe, 35 min
Die Erweiterung des Gesichtsfeldes bei Doppelprojektionen erhöhte die Möglichkeiten sowohl für das Spektakel als auch die Kontemplation. Mit zwei 16-mm-Projektoren nebeneinander konnte die Zeit auf komplexe Weise eingefroren oder unterbrochen werden, indem ein Bild gegen ein anderes ausgespielt wird und ein illusorischer Raum zwischen ihnen entsteht. Das Bewusstsein für die Zeitlichkeit des kinematografischen Ereignisses wird durch Variationen in der Synchronisation zwischen den Projektionen verstärkt.
Castle Two
nutzt "Zufall" und "Unbestimmtheit" nach dem Vorbild von Cage, evoziert die Paranoia der 1960er vor dem militärisch-industriellen Komplex und versetzt die Betrachtenden in einen Zustand von Angst und Verwirrung.
River Yar
ist eine monumentale Studie über Landschaft, Natur, Licht und den Lauf der Zeit. Mit Echtzeit- und Zeitrafferfotografie wird darin die Ansicht einer Gezeitenmündung im Herbst mit derjenigen im darauffolgenden Frühling kontrastiert. (M.W.)
Einführung von
Mark Webber
Widening the visual field increased the opportunity for both spectacle and contemplation. With two 16mm projectors side-by-side, time could be frozen or fractured in complex ways by playing one image against another and creating an illusory space between them. An awareness of the temporality of the cinematic event is reinforced by variations in sync from one screening to the next.
Castle Two
employs Cageian chance and indeterminacy, evoking 1960's paranoia of the military-industrial complex and placing the viewer in a state of anxiety and confusion.
River Yar
is a monumental study of landscape, nature, light and the passage of time. Employing real-time and time-lapse photography, it documents and contrasts the view of a tidal estuary in autumn and the following spring. (M.W.)
Introduced by
Mark Webber