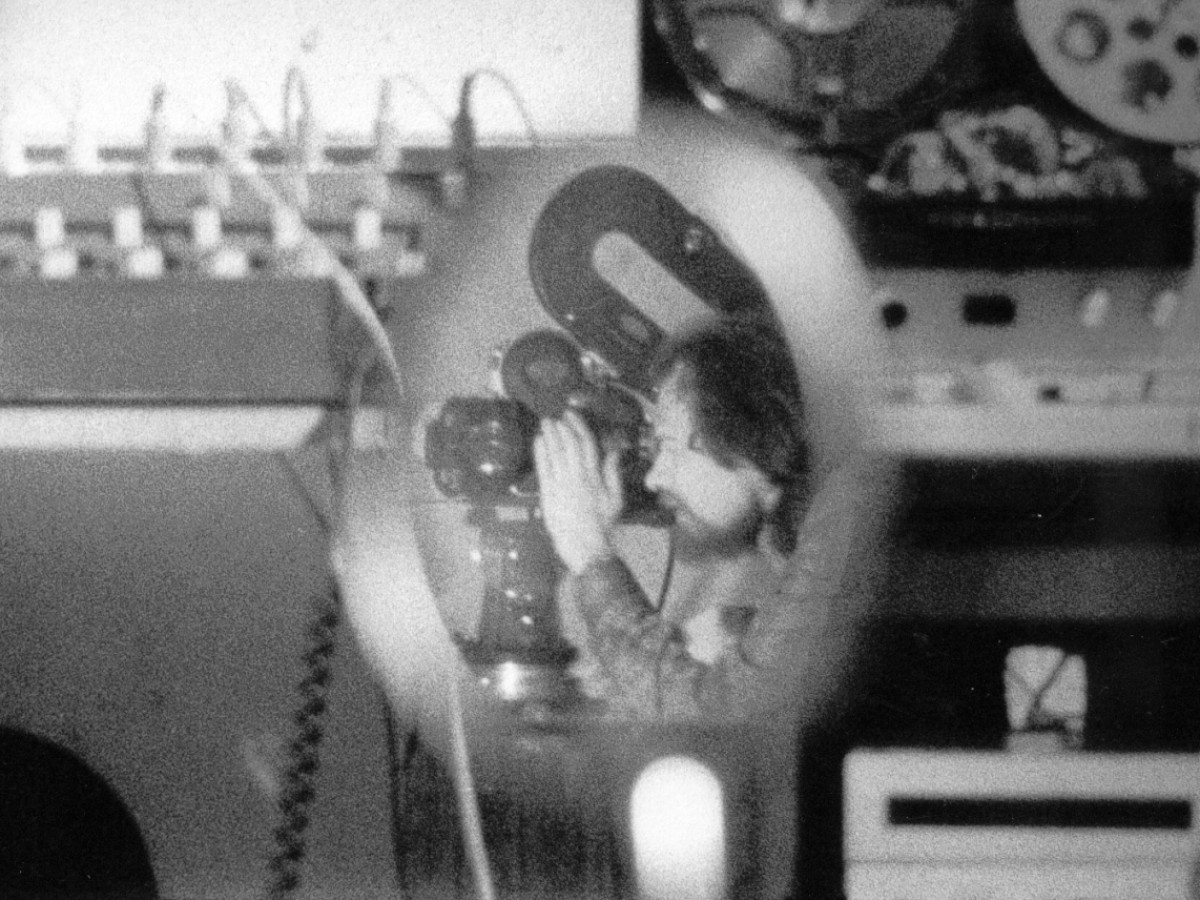 Against Dominant Cinema
Hall (1968–69)
Peter Gidal. 16mm, sw, 8 min
Shepherd's Bush (1971)
Mike Leggett. 16mm, sw, 15 min
The Man with the Movie Camera (1973)
David Crosswaite. 16mm, sw, 8 min
Threshold (1972)
Malcolm Le Grice. 16mm, Farbe, 13 min
Versailles I & II (1976)
Chris Garratt. 16mm, sw, 11 min
Seven Days (1974)
Chris Welsby. 16mm, Farbe, 20 min
Associations (1975)
John Smith. 16mm, Farbe, 7 min
In der LFMC-Werkstatt arbeiteten Filmemacher/innen ohne kostspieligen Umweg über kommerzielle Labore mit Stufendrucker und Entwicklungsmaschine. Ihre oft prozessbasierten Filme wurden bewusst gegen das Mainstream-Kino gedreht.
Shepherd's Bush
, ein gleichmäßiger Übergang von Dunkelheit zu Licht, der eigentlich als Test für den Drucker der Co-op gedacht war, ist für die Betrachtenden immer noch eine kathartische Erfahrung. Britische Künstler/innen verwendeten auch Sprache, Landschaft und den menschlichen Körper, um gegenständlichere Werke zu schaffen, die immer noch die essenziellen Eigenschaften des Films nutzen. Für den Film
Seven Days
, der klimatischen Unberechenbarkeiten eine mechanistische Struktur verleiht, ertrugen Chris Welsby und Jenny Okun eine Woche lang die rauen Wetterbedingungen auf einem walisischen Hügel. (M.W.)
Einführung von
Mark Webber
The LFMC workshop, which housed a step printer and continuous processor, enabled filmmakers to work without the expense or need for commercial laboratories. Their often process-based films were made in conscious opposition to 'dominant' cinema.
Shepherd's Bush
, a measured passage from darkness to light conceived as a test for the Co-op's printer, is nonetheless a cathartic experience for the viewer. British artists also used language, landscape and the human body to create more representational works that still employ the essential qualities of film. To make
Seven Days
, a film that applies a mechanistic structure to the unpredictable climate of the natural world, Chris Welsby and Jenny Okun endured a week of bleak weather conditions on a Welsh hillside. (M.W.)
Introduced by
Mark Webber