Victor Sjöström | Mauritz Stiller and the Golden Age of Swedish Cinema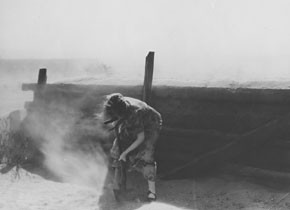 November 6 to 30, 2008
Victor Sjöström (1879–1960) and Mauritz Stiller (1883–1928) are the two towering figures of Swedish silent cinema. Both had successful careers as actors and directors for the stage when they were hired by legendary producer Charles Magnusson in 1912 to direct films for Svenska Biografteatern. Magnusson had just moved his operations from the rural town of Kristianstad to Stockholm where he had new studios built. Sjöström and Stiller quickly learned their trade, and made no less than 64 films between them in their first five years as directors, the most famous being Sjöström's Ingeborg Holm (1913), an extraordinary drama about a single mother losing custody of her children.
The years between 1917 and 1924 are sometimes referred to as the Golden Age of Swedish cinema; a period when Sjöström and Stiller produced most of their best work, beginning with Sjöström's
Terje Vigen
(
A Man There Was
, 1917), adapted from an Ibsen poem. When the film became a critical and financial success, Magnusson decided to radically change the company's production policy. Instead of the usual twenty or more films a year, the annual output dropped to only a handful, but each single film would be longer, better prepared and with a bigger budget. Another feature of
Terje Vigen
was the spectacular on-location photography. Sjöström used the scenery (beautifully captured by cinematographer Julius Jaenzon) not only as a backdrop for the unfolding drama, but as a terrain where Man and Nature interact.
This integration of natural locations into the drama is a characteristic of several classics of the period – Sjöström's
Berg-Ejvind och hans hustru
(
The Outlaw and His Wife
, 1918) and Stiller's
Johan
(1921), to name only two of them. It became part of Swedish cinema's "exoticism" or "otherness" which, together with the level of technical skill and subdued acting style, appealed immensely to foreign audiences. However, this international success must also be attributed to the fact that – coming from a neutral country – Svenska Biografteatern managed to find its way into several foreign markets amidst the turmoil of, and immediately following, World War I.
Many films of the era were adaptations of literary works; the richest source being the writings of Selma Lagerlöf. The rural settings of her tales made them highly suitable for the screen, consistent with the "Swedishness" referred to above. The recurrent infusions of a certain otherworldliness were readily transposed to the realm of cinema, most congenially so in Stiller's
Herr Arnes
pengar
(
Herr Arne's Treasure
, 1919) and Sjöström's
Körkarlen
(
The Phantom Carriage
, 1921). The latter film's amazing performances, complex narrative structure and striking use of multi-exposures make it perhaps the greatest of all Swedish silent films.
The best of Stiller's early works is
Vingarne
(
Wings
, 1916). He added a framing structure to Herman Bang's original story, showing the production of the film itself and how it is received by critics and audience. This kind of self-reflexivity is also very much at the centre of his amazingly vivid
Thomas Graals bästa film
(
Thomas Graal's Best Film
, 1917). With the elegant marital comedy
Erotikon
(1920) Stiller excelled in ironic storytelling, not least thanks to the use of ambiguous and funny inter-titles designed by Alva Lundin. Stiller's last Swedish film was the epic
Gösta Berlings saga
(1924), which launched the career of Greta Garbo. He then accompanied Garbo to Berlin, where she was to act in Pabst's
Die freudlose Gasse
(1925), before they both embarked on a journey to Hollywood. Garbo would rise to eternal stardom, but Stiller returned in misery after a few years, having completed only one film. Sjöström had already left Sweden in 1923, and his American career was far more successful than Stiller's,
The Wind
(1928) possibly being the film that most resembles his Swedish works in terms of acting style, character depth and use of natural locations.
Another important figure of Swedish silent cinema was Georg af Klercker, hired by Charles Magnusson at the same time as Sjöström and Stiller, in 1912. But Klercker soon fell out of favour with the producer and tried his luck at the Hasselblad company in Göteborg for which he made a series of visually striking adventure films. In works like
Fången på Karlstens fästning
(
The Prisoner at Karlsten Fortress
, 1916) the outdoor locations are used not so much to show the interaction of Man and Nature; instead the scenery is put to graphically stunning effect. By a twist of irony and through a series of takeovers and mergers, Hasselblad ended up as part of the newly created major company Svensk Filmindustri in 1919 – under the leadership of producer Magnusson. Thus Klercker's days as a director were effectively over.
During its peak years in the early 1920s, Svensk Filmindustri also attracted foreign talents. The still unknown Danish filmmaker Carl Theodor Dreyer directed
Prästänkan
(
The Parson's Widow
) in 1920, which – apart from Dreyer's own signature style – has a distinctive Swedish look. In 1921, Svensk Filmindustri signed a contract with another Dane, Benjamin Christensen, to direct a film that is like no other:
Häxan
, a strange mixture of informative "lectures" and suggestive dramatizations about the conception of the devil and medieval perceptions of witchcraft.
The Retrospective consists of films made up to 1924, with the addition of two Sjöström masterpieces made while he was in Hollywood. The selection also includes works by lesser-known directors such as Per Lindberg and animator Victor Bergdahl, but it is evidently concentrated on Sjöström and Stiller – the two major figures in a small national cinema which, for a brief period of time, produced some of the greatest films in the world.
The show has been curated by and organized in close collaboration with Jon Wengström, Curator of Archival Film Collections at The Swedish Film Institute (SFI). All prints shown derive from the SFI Collection, including several newly restored versions.
The Panoptikon Orchestra
, one of Europe's outstanding sources of new music for silent films, will perform three of their film scores live at the Filmmuseum on the opening weekend of the Retrospective -
The Phantom Carriage
(Nov 6),
Häxan
(Nov 7), and
Erotikon
(Nov 8). These special presentations have been made possible through the support of the Swedish Embassy in Vienna.
In the following week, Gerhard Gruber will provide live piano accompaniment to three other major works in the show.
Related materials