Films by Ritwik Ghatak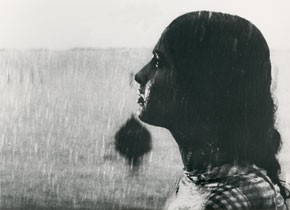 January 29 to February 12, 2015
"In Indian cinema, no one has managed to surpass the violence and epic beauty of his images," said Satyajit Ray about his colleague Ritwik Ghatak (1925-1976), who was only posthumously recognized as one of Asia's greatest filmmakers.
 
While Ray himself – as a person and as an artist – seemed to perfectly fulfill Western expectations of the Indian art film and served as its "poster child" (Jacob Levitch), the electrifying, fragmented, experimental work of the self-doubting "problem child" Ghatak offered no such comfort. His nickname was "Burning Tiger" and his films were equally blazing. The aspect of "epic beauty" that Ray cited can also be understood in the Brechtian sense – and during his lifetime, Ghatak translated Brecht's work into Bengali. "For those who were lucky enough to see one of his films, Ghatak is one of those rare artists who by their way of showing things can change our own perception of the world," wrote the French author, Hubert Niogret.
 
The son of an East Bengali judge, Ghatak spent a happy childhood surrounded by his family. The 1947 Partition of Bengal was a drastic experience: like millions of other Bengalis, Ghatak's family fled East Pakistan (today's Bangladesh) to India's Calcutta, where Ghatak soon joined both the theatre and the Communist Party. His cultural focal point was the "Indian People's Theatre Association (IPTA), within whose orbit Satyajit Ray, Mrinal Sen and many later Ghatak collaborators also belonged. After a series of internal IPTA quarrels (Ghatak was labeled a "Trotskyite"), he found a fresh start in cinema – as well as a larger audience. However, his film debut, Nagarik (1953), was only screened after his death. Ray observed that had this film come out before his own debut film, Pather Panchali, the West would have discovered India's cinema with Ghatak.
 
Ghatak's Ajantrik (The Vagabond) was shown in 1958 on the margins of the Venice Film Festival and only Georges Sadoul celebrated the "young, exceptionally talented filmmaker." Ghatak's only public success came in the wake of his major 1960 work, Meghe dhaka tara (The Cloud-Capped Star), but this moment was not to last. Before he died at the age of 51, consumed by tuberculosis, tumors and alcohol, the filmmaker abandoned more projects than he completed. With autobiographical intensity, Ghatak told stories of survival – about defending a decent existence in the face of despair: in his unbelievable final work, Jukti. Takko aar gappo (Reason, Debate and a Story, 1974) Ghatak places himself in the story as an alcoholic; Komal gandhar (A Soft Note on a Sharp Scale, 1961) evokes the IPTA era; and Titash ekti nadir naam (A River Called Titash, 1973) remembers the delta landscape of Ghatak's youth.
 
Rivers – the names of which make up the titles of his greatest epics, Subarnarekha (1962) and Titash – and refugees are the central motifs of Ghatak's tales about a country that no longer exists. Its political turmoil helped shape Ghatak's aesthetic: tradition and modernity, as well as melodramatic, realistic and revolutionary ideas of mise-en-scène ignite each other in a tri-level narrative; the individual drama mirrors larger social allegories and mythical images. Ghatak's heroines like Nita in The Cloud-Capped Star sacrifice themselves in a national emergency as providers for their family: Mother India. At the same time they are ghosts of goddesses: as in all ancient myths, Ghatak describes the cycle of destruction and rebirth.
 
The mysterious, often nervous force and complexity of Ghatak's art emerges from the interplay of conflicting ideas. Over powerful images, he imposes astonishing sounds: the crack of a whip accompanies Nita's unforgettable descent, gunshots are heard over reports of Ghandi's death in Subarnarekha. Music serves as a bridge – between concrete reality and desired universality, with compassion for the characters in their social and allegorical ambition and immoderate passion against which Ghatak himself struggled: "Man dies, but mankind lives on." Mankind only discovered Ghatak's gift after his death: a unique vision of cinema, roaring like the great rivers that flow through these works.
 
The Film Museum will screen six of the eight films completed by Ritwik Ghatak. Two of his works – "Nagarik" and "Bari theke paliye" (1959) – are currently not available in their original format.