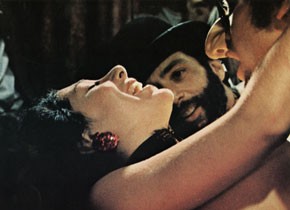 Hot Times (1974)
Regie, Drehbuch: 
Jim McBride; Kamera: Affonso Beato; Darsteller: Henry Cory, Gail Lorber, Amy Farber, Steve Curry, Bob Lesser, Jack Baran, Adrienne Mancia, Jim McBride. Farbe, 80 min
My Son's Wedding to My Sister-In-Law (2008)
von Jim McBride.
Farbe, 9 min
Archie hat's nicht leicht: er möchte sich in Ruhe mit seiner süßen Bette ins neue Jahr verlustieren, doch die Dame ist im Banne eines Gurus und pflegt erotische Enthaltsamkeit. So treibt Archie durch ein New York der verschrobenen Erotomanen, wird Pornodarsteller, findet sich im Bett einer lustlustigen Schönen wieder, deren sexuell befreite Mutter ständig ihre Liebesspiele stört
... till the gander gets his goose. Hot Times
ist eines der bizarrsten Meisterwerke Jim McBrides: eine frohgemut-schmutzige, vor wirr-surrealen Sprachmetaphern strotzende Sexkomödie als
home movie,
in dem sich Teile seiner künstlerischen wie privaten Familie jener Jahre ­herumtreiben, was den Inzestmomenten in der Geschichte das ­gewisse subversive Etwas verleiht.
The Family that lays together, stays together,
dies formuliert auch der jüngste Eintrag in Jim McBrides Familienalbum, der zum Auftakt gezeigt wird. (R.H.)
Einführung von
Jonathan Rosenbaum
am 8. Oktober
Mit Dank an Jim McBride und University of North Carolina School of the Arts