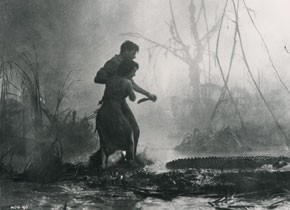 Double Feature
The Most Dangerous Game (1932)
Regie: Ernest B. Schoedsack, Irving Pichel; Drehbuch: J. A. Creelman nach der Erzählung von R. Connell; Kamera: Henry W. Gerrard; Musik: Max Steiner; Darsteller: Joel McCrea, Fay Wray, Robert Armstrong, Leslie Banks. 35mm, s/w, 62 min
Island of Lost Souls (1932)
Regie: Erle C. Kenton; Drehbuch: Philip Wylie, Waldemar Young nach The Island of Doctor Moreau von H. G. Wells; Kamera: Karl Struss; Darsteller: Charles Laughton, Richard Arlen, Leila Hyams, Bela Lugosi. 35mm, s/w, 66 min
Ein Film-Traum oder Traum-Film, einer der prächtigsten, dunkelsten des Kinos. Ein Paar auf der Flucht, auserkoren als Jagdwild für Graf Zaroff, einen pervertierten russischen Libertin – erst das Erlegen zweibeinigen Säugegetiers befähige zur ekstatischen Sexualität. Der in Nebel verschwimmende Tropenwald: Ausdünstung der abgründigen Seele.
The Most Dangerous Game
ist geniales ­Trivial- und Genre-Kino, das die phantastischen Pforten des Surrealis­mus durchschritten hat.
Island of Lost Souls
untersucht, wie man die Evolution vom Tier zum Menschen beschleunigen kann. Eine Frage, die Herr Satan persönlich in Gestalt von Charles Laughton mittels Kreuzungen beider Gattungen auf seiner karibischen Privatinsel im "Haus der Schmerzen" zu beantworten sucht. Nicht nur des grausamen Endes wegen wurde der Filmvon der englischen Zensur für 30 Jahre verboten. (H.T.)
Freier Eintritt für Fördernde Mitglieder am 30.8.