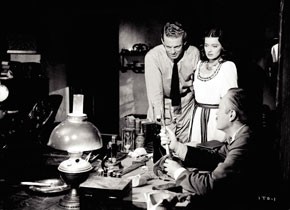 Double Feature
The Seventh Victim (1943)
Regie: Mark Robson; Drehbuch: Charles O'Neal, DeWitt Bodeen; Kamera: Nicholas Musuraca; Musik: Roy Webb; Darsteller: Tom Conway, Jean Brooks, Isabel Jewell, Kim Hunter, Evelyn Brent. 35mm, s/w, 71 min
Isle of the Dead (1945)
Regie: Mark Robson; Drehbuch: Ardel Wray; Kamera: Jack Mackenzie; Musik: Leigh Harline; Darsteller: Boris Karloff, Ellen Drew, Helene Thimig, Jason Robards Sr., Skelton Knaggs. 35mm, s/w, 72 min
Eine Waise geht nach New York, um ihre Schwester zu suchen – und findet sie als Mitglied einer Sekte von Teufelsanbetern im ­Herzen von Greenwich Village.
The Seventh Victim
bleibt Produzent Val Lewtons persönlichster Film, gespeist von Erinnerungen ans New York der 1920er, durchwirkt von der sanft einsickernden ­Atmosphäre der Verdammnis und gerahmt von einem niederschmetternden John-Donne-Zitat: "I run to Death and Death meets me as fast, and all my Pleasures are like Yesterday."
Isle of the Dead
war das erste gemeinsame Projekt von Lewton und Boris Karloff: Eine griechische Insel wird während des Kriegs von 1912 aufgrund von Pest unter Quarantäne gesetzt. Zu Krankheit und ­Auseinandersetzungen kommt der Aberglaube: Eine Einheimische hält eine Besucherin für einen vampirischen Dämon.
Isle of the Dead
ist mit Sicherheit einer der elementarsten, geheimnisvollsten Val-Lewton-Filme. (C.H.)