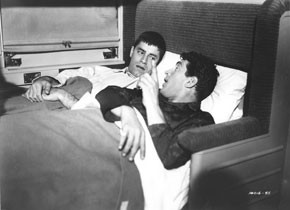 The Stooge (1952)
Regie: Norman Taurog; Drehbuch: Fred F. Finklehoffe, Martin Rackin; Kamera: ­Daniel Fapp; Darsteller: Dean Martin, Jerry Lewis, Polly Bergen. 35mm, s/w, 99 min
Zum Auftakt:
The Colgate Comedy Hour, 4.11.1951 von Lewis & Martin. Video, s/w, 10 min [Ausschnitt]
 
Vaudeville-Star Bill Miller will solo Karriere machen, weshalb er sich unter sozial eigenwilligen Umständen bei seiner Verlobungspresse­konferenz von Partner Ben Bailey trennt. Aber es läuft nicht so, wie er sich das vorgestellt hat – au contraire: Bill ist furchtbar, eitel und schal. Sein Manager rät ihm, sich ein neues Gegenüber zu suchen, einen Komiker, der vom Publikum aus die Show zum Schein durcheinanderbringt. Auftritt: Ted Rogers, eine arme Socke auf der Suche nach einem passenden Fuß. Natürlich wird das Gespann zum Hit – und Bill glaubt, es läge an ihm, während der loyale Ted alles tut, um seinen Daseinssinnstifter vor den Anfeindungen der anderen zu schützen. The Stooge wurde ein Jahr lang zurückgehalten: Bei Paramount glaubte man, man müsse dem Publikum schonend beibringen, dass ihre jüngsten Lachsalvenlieferanten eine Art S&M-Beziehung führen. (R.H.) Zum Auftakt: Ein weiterer Rückblick auf frühe Entertainer-Tage: Wie Dean (als Bauchredner) und Jerry (als eher unwilliger Dummy) beim Variété zu reüssieren versuchen.
 
Freier Eintritt für Fördernde Mitglieder am 18.10.