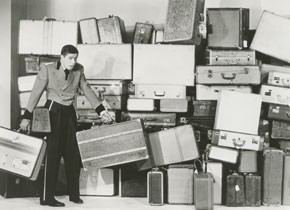 The Bellboy (1960)
Regie, Drehbuch: Jerry Lewis; Kamera: Haskell B. Boggs; Musik: Walter Scharf; Darsteller: Jerry Lewis, Alex Gerry, Bob Clayton, Sonnie Sands. 35mm, s/w, 71 min
Zum Auftakt:
The Colgate Comedy Hour, 29.4.1951 von Lewis & Martin. Video, s/w, 3 min [Ausschnitt]
Der beste US-amerikanische Komödiant der Epoche bei seinem Debüt als Autor-Gagman-Akteur-Regisseur. Jerry Lewis ist stets ­zugleich sein eigener Doppelgänger plus er selbst. Jerry, der Regisseur, macht Amateurfilme – Lewis ist Hollywood-Professional. Lewis, der Schauspieler, spielt die Rolle des perfekten Amerikaners, befallen von der Tollwut totaler Anpassung – Jerry jedoch ­stolpert unentwegt und verwandelt die heile Welt in unbeschreibliches Chaos. Jerry, der Gagman, will bloß ein paar Sketches ­drehen – aber Lewis, der Autor, ist erfüllt vom Ehrgeiz, sie in ein kompaktes Kinostück zu verwandeln: am Originalschauplatz des Hotel Fontainebleau in Miami Beach. The strange case of Mister Jerry and Doctor Lewis. (H.T.) Zum Auftakt: Lewis im irrwitzigen ­In­fight mit den TV-Live-Kameras: ein Avantgardist der moving images, neun Jahre vor seinem eigentlichen Regiedebüt.
Freier Eintritt für Fördernde Mitglieder am 18.10.