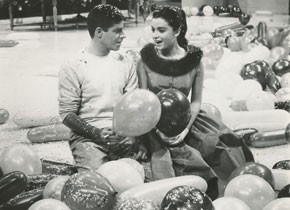 Cinderfella (1960)
Regie: Frank Tashlin; Drehbuch: Tashlin, Jerry Lewis; Kamera: Haskell B. Boggs; Musik: Walter Scharf; Darsteller: Jerry Lewis, Ed Wynn, Judith Anderson, Henry Silva, Count Basie. 35mm, Farbe, 91 min*
 
Zum Auftakt:
The Colgate Comedy Hour, 4.2.1951
von Lewis & Martin.
Video, s/w, 5 min [Ausschnitt]
Nach dem Tod des Vaters findet sich Fella in den Klauen seiner sinistren Stiefmutter Emily und seiner Stiefbrüder Rupert und ­Maximilian wieder. Fella hat ein gutes Herz, weshalb er seine Rumpffamilie liebt, obwohl alle drei nichts Besseres zu tun haben, als ihn wie und wo auch immer aufs Ärgste zu sekkieren. Beim ­Reinigen des Swimmingpools begegnet er einem freundlichen Herrn auf der Luftmatratze, den er mit seiner Rede über den Unter­schied zwischen people (einfachen Leuten) und persons (Promis) so tief rührt, dass ... Ein Gender bender-Aschenputtel mit ­allem, was dazu gehört, inklusive dem Ball, für den Jerry Lewis eine gar exquisite Herrenabend-garderobe angezaubert bekommt. Eine ­weitere ­Variante über das große Lewis-Thema "Doppelgänger": Ob des Verwandlungsmotivs lässt sich Cinderfella besonders ergiebig als Vorläufer seines eigenen Regiemeisterwerks The Nutty ­Pro­fessor betrachten. (R.H.) Zum Auftakt: Party-Gäste. Jerry spielt verschiedenste soziale Rollen durch – und muss danach, wider­willig wie ­immer, Dinos Song anmoderieren.
* Print courtesy Academy Film Archive