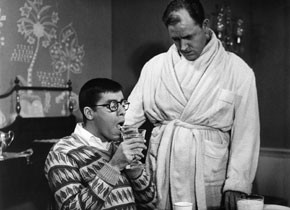 That's My Boy (1951)
Regie: Hal Walker; Drehbuch: Cy Howard; Kamera: Lee Garmes; Musik: Leigh Harline; Darsteller: Dean Martin, Jerry Lewis, Ruth Hussey, Polly Bergen,
John McIntire. 35mm, s/w, 98 min*
The Colgate Comedy Hour, 30.11.1952
von
Lewis & Martin.
Video, s/w,
9 min [Ausschnitt]
Obwohl Martin & Lewis schon in einigen Filmen als Komikerduo aufgetreten waren und Variationen ihrer Bühnenspäße zum Besten gegeben hatten, ist
That's My Boy
der erste ihrer Filme: Hier wurde endlich eine Handlung so gestrickt, dass die jeweilige Persona sich entsprechend austoben konnte. Martin gibt, wie es sich gehört, den Mann, der allen Elite-Vätern als Spross vor Augen schwebt: ein smarter Macher und Verführer, der sich auf dem Besseregesellschaftsparkett genauso zu bewegen weiß wie auf den Feldern der Sportlerehre. Lewis muss das absolute Gegenteil von all dem darstellen und wird von Martin unter die Fittiche genommen. Und ­natürlich – wir sind noch in der Frühphase des Gespanns – erweist sich das Weichei am Ende doch als Siegertyp, eher zufälligerweise, wenn auch nicht wirklich wider Willen. Welcome to the Nifty Fifties. (R.H.) Zum Auftakt: ein Eheschwur. Jerry darf – endlich!
in his own voice!
– eine Solonummer singen ("Because of You") und fällt ­danach ins unwiderstehliche, aus heutiger Sicht sehr bewegende Liebesduett mit Dino: "You'll Never Get Away".
* Print courtesy Academy Film Archive