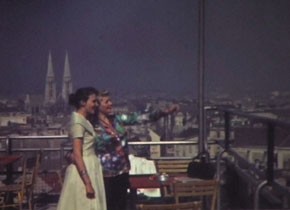 Film Museum on Location:
Home Movie Day 2010
October 16, 2010 in the Vienna Library
 
With the advent of smaller film formats in the early 1920s, amateur filmmaking became established as an independent and widespread cultural practice. Films shot by private citizens are now seen as an important element of visual history: not just content-wise as historical documents but also due to their specific approach to the medium. With encroaching digitalization, these film formats – Super 8, 9.5mm, and 16mm – are disappearing from public consciousness. The projection devices are becoming obsolete, and the rolls of film are threatened by disintegration.
 
For this reason, the Film Museum and the Vienna Library are organizing an event to commemorate International Home Movie Day. On October 16, we invite the public to bring their home movies, as well as "found" or inherited amateur footage, to be inspected by our experts and then projected. Starting at 11:00 am, films and projectors can be "checked in" at the Vienna Library at the Rathaus. At 1:00, 3:00, and 5:00 pm, short lectures and screenings will offer participants the opportunity to familiarize themselves with the creation of digital viewing copies, various formats, the history of amateur film, as well as with the collection policies of the Austrian Film Museum with regard to amateur film. 
 
We ask visitors to bring only film material (no videos or DVDs). Depending on the number of participants, there may be delays in the schedule and we may not be able to screen all of the films brought in.
 
The Viennese Home Movie Day is a joint project of the Film Museum, the Ludwig Boltzmann Institute for History and Society, the Vienna Library and the Austrian Museum of Ethnology.
Related materials