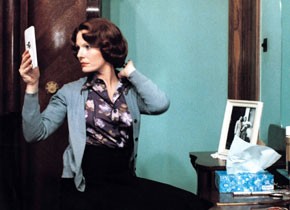 Chantal Akerman
Retrospective and Carte Blanche
October 6 to November 3, 2011
This year's joint retrospective of the Viennale and the Austrian Film Museum is dedicated to the great Belgian filmmaker, Chantal Akerman. 30 of her works will be screened, along with Akerman's personal "Carte blanche" selection of 14 works by other artists that have shaped her conception of cinema-films by Bresson, Demy, Fassbinder, Godard, Hitchcock, Murnau, Pasolini, Rossellini, Sirk, Snow, Straub/Huillet, Varda, Van Sant and Wong Kar-wai. From October 28 to November 1 Chantal Akerman will be in Vienna and appear at the Filmmuseum for several presentations and Q&A sessions.
Where to begin? When considering a body of work like Akerman's, which has seen so many renewals and drawn such a wide arc, this question becomes central. Perhaps
Jeanne Dielman, 23 quai du Commerce, 1080 Bruxelles
(1975) – one of the towering achievements of modern cinema, to which one always returns to find one's way when lost in the swirl of images and sound.
Jeanne Dielman
catapulted Akerman to the forefront of international art cinema. It also forged the public image of Akerman's films: formally rigorous, fascinated with the physical experience of time passing, driven by fluidly erotic conditions-films that long to be desired. But that is just
one
facet of her work, whose exuberant riches can be discovered this October. Who would have thought, for instance, that one day she would adapt Joseph Conrad, as in her latest film,
La Folie Almayer
(2011)?
This comprehensive presentation weaves Akerman's Carte blanche selections into her own oeuvre:
La Folie Almayer
reveals itself as a strange after-image of Murnau's
Tabu
(1931) while
Golden Eighties
(1986) proves to be a singular attempt to update Jacques Demy's
cinéma enchantée
.
La Chambre
(1972) is not connected to the film that inspired it, Michael Snow's
Wavelength
, but to his later, more expansive,
La Région centrale

(1970-71).
One should, of course, be wary of comparisons which may be too direct –
Golden Eighties
could just as easily be experienced as a pop version of a Straub/Huillet music film such as
Moses und Aron
...
Chantal Akerman was born in 1950 to an upper-middle-class Jewish family in Brussels. Her mother was one of the only family members to survive the Shoah. In one of her most important installations, she says in blank verse: "Sometimes I wonder what would have happened to me / if I hadn't been a daughter / of the survivor generation." Film first entered Akerman's field of vision with Jean-Luc Godard's Pierrot le fou (1965) – Akerman calls it "an awakening experience." It was Wavelength, however, which she saw in late 1967 with her school friend and future producer, Marilyn Watelet, that led her to filmmaking. The following year, Akerman enrolled in film school but she felt alienated by the academicism taught there and dropped out after just a few months. Instead, she made her own film and even played the explosive lead role: Saute ma ville (1968). André Delvaux saw the film and was impressed. He introduced the not-yet-20-year-old to Eric de Kuyper, who bought Saute ma ville for his TV program, Other Cinema.
In 1971, Akerman traveled to the U.S. where she shot
Hôtel Monterey
, her first longer work. Precisely framed images of the titular hotel, slowly drawn-out tracking shots, strikingly erratic editing: Akerman literally opens up, discloses, inaugurates Space. Again and again, she would later return to such explorations and expeditions-her major essay films and travelogues such as
News From Home
(1977, shot in New York),
D'Est
(1993, on the road in Russia) and
Là-bas
(2006, Tel Aviv) all emerge from the experience of
Hôtel Monterey
.
Je tu il elle (1974), Akerman's first full-length feature film, set the coordinates along which works such as Jeanne Dielman, Les Rendez-vous d'Anna (1978), and Toute une nuit (1982) developed: women experience the cramped middle-class homes and lifestyles from which they long to escape-Jeanne Dielman through an act of fury, Julie and Anna through travel. Along they way, these women encounter a dazzlingly inhospitable anonymity, stumbling upon forlorn but peculiarly attractive spaces and people, but rarely upon love. In Toute une nuit, this results in a symphony of awakening and longing, of conquest and loss.
Almost no one could have expected what followed this quartet of brittle-edged sensuality and tenderness: with the musical
Golden Eighties
(1986) and its wonderful predecessor
Les

Années 80
, Chantal Akerman turned to a radically personal revision of genre cinema. 
Nuit et jour
(1991) is her strict yet sensual version of the classical Hollywood melodrama, while
A Couch in New York
(1996) is a cheerfully boisterous twist on the romantic comedy and
La Folie Almayer
a melancholic revisitation of the adventure film.
In between lie two of Akerman's greatest and most original works: her Proust adaptation, La Captive (2000), and Histoires d'Amérique (1989), her dream of Yiddish cinema. With its fragmentation and intertwining moods and emotional states, the latter is a Diaspora film sui generis. As in all of her films, Akerman here also proves herself to be a master side-stepper, an obsessive self-inventor, a lyrical cinephile and a politically alert polemicist. In short: as a free spirit of the rarest kind. Time is definitely on her side.
A joint presentation of the Film Museum and the Viennale. A publication devoted to Chantal Akerman will be issued for the retrospective, with a selection of interviews, essays and reviews of her work.
Due to a family emergency Chantal Akerman had to cancel her visit on short notice. Mrs. Akerman will, however appear on screen for two Q & A sessions via Skype: October 30 after the screening of "La Captive" and October 31 after the screening of "La Folie Almayer".
Related materials