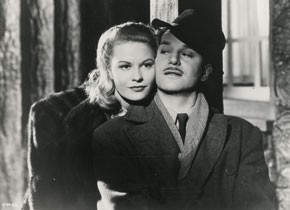 Adolf Wohlbrück | Anton Walbrook
April 18 to May 5, 2014
Adolf Wohlbrück is one of cinema's most precise and versatile actors and one of the most exciting figures in world film history. He was also one of those not-so-numerous individuals of the 20th Century whose courage and unfaltering political convictions can set an example for all. Wohlbrück was never a star in the conventional sense of the word, because it was never easy to truly identify with him. One can admire, adore and desire him, but ultimately there always remains a certain distance that is defined by him and him alone, which no one else dares to breach. One can sense how dangerous it might be to get too close to this man; he could break you apart with his bare hands or tear you to pieces with a few well-chosen words uttered offhand...
 
Wohlbrück was born in Vienna on November 19, 1896, the third Adolf in his family. His grandfather appeared in variety shows, his father was drawn to the circus, thus it was not especially surprising that the youngest Adolf aspired to a career on the stage. But before this student of Max Reinhardt could get properly started in the theater, World War I broke out. Wohlbrück served and was sent to a prison camp after being captured – where he promptly started a theater.
 
At first, the movies were only sporadically interested in Wohlbrück, which is astonishing considering how well he could move – the usual prerequisite for silent film stars. One only need look at his iconic entrance at the beginning of Willi Forst's monumental Maskerade (1934): a ballroom, a grand staircase created for nothing less than a grandiose entrance; a door appropriate for such a moment opens: Wohlbrück leisurely walks onto society's stage. The elegantly tailored evening clothes fitted to his beautifully muscular form, worn with complete abandonment – this is his world, in which he creates the costumes and customs. How many men and women look ridiculous in formal attire, when the clothes seem to be wearing the person! Not so with Wohlbrück: he lives in his body, and his body lives in its clothes. He glances around with apparent curiosity, lighting a cigarette in such a way that it looks almost healthy – and then he speaks: at first just well-mannered non sequiturs, nothing more, yet everything changes because of the timbre of his voice, the way he modulates his speech.
 
There is a clear focus of expression, even in moments of tenderness and intimacy: a sharp undercurrent of cruelty to which one could surrender in feelings of lust; and throughout a sense of irony, the expression of a culture in which passion and intellect are finely balanced. With Wohlbrück, very little is unconditional or absolute. This is how cosmopolitans look, and how they sound. Even when he lightly says, "Sacher pastries?" one immediately notices the decisiveness of his voice and his work with the text – what he does with words causes his body to move; without this there would be something missing from his performance. In the silents, Wohlbrück made an impression – in sound films he was simply a phenomenon.
 
Adolf Wohlbrück made no apologies for his beliefs or preferences: he was a radical democrat, a vociferous enemy of the Nazis, and he was gay. This son of a Jewish mother experienced the start of the fascist terror while still in Germany, during which he shone in such works as Reinhold Schünzel's Viktor und Viktoria (1933) and Willi Forst's Allotria (1936). In 1936, Wohlbrück emigrated to Great Britain where, as Anton Walbrook, he continued his career and his anti-fascist work. Significantly, he continued to play roles true to those of his German-Austrian career: he was a man of the world – who sometimes seemed lost: a person alive in Western culture for whom nothing was strange, open to every experience. His accent served him as a passport to a different world, where enlightenment is an everyday reality, and not just an ideal.
 
Thus, Wohlbrück became the embodiment of the films of Michael Powell & Emeric Pressburger – whether he played a North American Hutterite (49th Parallel, 1941) or a German aristocrat of honor and conscience (The Life and Death of Colonel Blimp, 1943), a ballet impresario of indeterminate European descent (The Red Shoes, 1948) or ab archetypical Austrian rogue (Oh ... Rosalinda!!, 1955). It was also characteristic of Wohlbrück that even though he became a British citizen in 1947, he soon moved to Germany where – interrupted by wonderful contributions to the late works of Max Ophuls – he mainly appeared in the theatre. In March 1967, he collapsed during a performance in Munich and died that August in Garatshausen, Bavaria. In accordance with his wishes, his ashes were buried in the cemetery of St. John's Church in London.