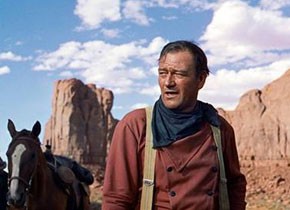 October 16 to November 30, 2014

This year's Film Museum retrospective in collaboration with the Viennale – Vienna International Film festival is dedicated to the works of John Ford (1894–1973).

Spanning six decades and more than 140 films, Ford's lifelong project was the telling of the story of the United States of America – in a deeply personal yet popular form. He was recognized early on as one of the greats of cinema, both in the perception of the public (he received his first directing Oscar for the The Informer, and was the only person to win this award four times), as well as that of cinephiles and his director colleagues. Orson Welles said that Ford and his "classically perfect" western Stagecoach taught him everything about cinema, while later Ford westerns such as The Searchers became key films for the movie brats of the New Hollywood and the New German Cinema. Even today, Ford remains an indispensible point of reference for all filmmakers with an awareness of film history.

Thus, the work of this self-declared "director of westerns" cannot be defined by individual films or genres: like no other director – with the possible exception of Yasujirō Ozu in Japan – Ford revealed the society and history of his country with inexhaustible detail, always in the context of commercial cinema production, while at the same time developing a distinctive style that was appropriate to his themes. Ford's major story is that of civilization – and its cost. Focusing on specific characters and situations, he was able to paint the picture of an emerging community and its institutions, with a special sense for their contradictions. As Andrew Sarris wrote, Ford's style "evolved almost miraculously into a double vision of an event in all its vital immediacy and yet also in its ultimate memory image of the horizon of history."

Ford was both a romantic and a dialectician: he described the ideals and rituals of America with patriotic passion – but with a strong critical awareness, especially regarding the necessary but difficult compromises in the name of democratic freedom. He saw both utopia and its future destruction, according to the motto, "glory in defeat." His "Irish" pull towards rebellion, to anti-authoritarianism, and his basic emotional identification with "poor, simple people" – brought to life in his great saga of the Depression, The Grapes of Wrath (1940), the culmination of Ford's leftist Popular Front phase of the 1930s – collided with his conservative tendencies which he would emphasize in later statements. In the last and most famous third of his career, Ford withdrew almost completely to historical subjects, without ever losing sight of contemporary developments or his fundamental skepticism. His inner conflicts (between projects, the pugnacious director often drank himself unconscious) were translated into a body of work that continues to open up new, often contradictory perspectives on the development of the United States.

"When fact becomes legend, print the legend." This famous line from his late work The Man Who Shot Liberty Valance (1962) summarizes how Ford, in Brechtian style, equally reconstructed and deconstructed the myths of his nation. If one views the Western as the cinema of the American homeland, it is easy to see why Ford found the genre to be a commercially viable format within which to undertake his historical expeditions – from his early successes with cowboy star Harry Carey in films like Bucking Broadway (1917) through the railroad epic, The Iron Horse, whose success in 1924 established him in large-scale productions, up to the masterpieces of the postwar era such as My Darling Clementine, the complex cavalry trilogy (Fort Apache, She Wore a Yellow Ribbon, Rio Grande), or the song-like Wagon Master (a central piece of evidence for Ford's self-image as a folk artist). The many-pitched voices of this popular storyteller and poet were mated with a corresponding sense of visual composition; thanks to his images, Monument Valley will forever be known as "John Ford country" – the epitome of the Western landscape.

But this is just one location, just one aspect, just one era in the rich history of John Ford's cinematic surveys (he was particularly fond of reflecting his Irish ancestry). The variety of his subject matter and motifs is much greater than commonly asserted, and finds correspondence in the forms of representation that do not line up neatly alongside the "classic Ford style" – from his expressionistic, Murnau-influenced experiments to the sobriety of his incomparable war reportage like The Battle of Midway or the feature They Were Expendable. The internal cohesion and density of Ford's work is in turn reinforced by the many returning faces: Ford's carefully constructed circle of actor-friends, his stock company, formed a community for him like the one he looked for in his films.

This retrospective presents approximately 50 works from all phases of John Ford's career: images of a nation in which the past, present and future overlap. As a director for whom civilization and democracy are never a given but instead must constantly be discovered anew, Ford is as up-to-date as he is timeless.
A joint presentation of the Austrian Film Museum and the Viennale A publication devoted to John Ford has been published for the retrospective, with a selection of essays and reviews of his work.
Related materials