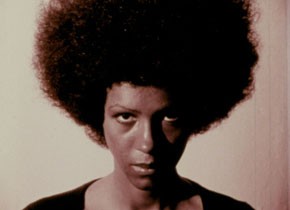 Kino-Atlas 1: L.A. Rebellion
Creating a New Black Cinema
September 24 to October 8, 2015
"Kino-Atlas", a multipart project curated by Lukas Foerster and Hannes Brühwiler, follows the notion that cinema is a medium of groups and clusters. Just as each individual film comes into being when a group of people gather for a limited time at a specific location, the films themselves gather into social clusters: "New Waves" in Paris, Tokyo, or Taipei; film school cliques; political marriages of convenience; or production units within a studio system. Taking such forms of socialization as the basic units of cinema allows for an unimpeded view of film history that does not revolve around national cinemas yet still recognizes the historic "spatialization" of filmmaking practices.
Los Angeles is the first stop on this journey. In the final part of Los Angeles Plays Itself, Thom Andersen's monumental essay film about the cinematic representation of his hometown, the commentary moves away from Hollywood – "Another city, another cinema: a city of walkers, a cinema of walking." Excerpts from Haile Gerima's Bush Mama and Charles Burnett's Killer of Sheep follow, among other examples of "a neorealist movement", led by young, black filmmakers coming from the South. The movement came to be known historically as "L.A. Rebellion." Its origin was the UCLA Film School in the mid-to-late 1960s, where a group of black students came together, looking for new aesthetic and political alternatives to both Hollywood and contemporary art cinema. It arose in direct connection to the social struggles of the period – such as the Civil Rights movement and the Watts riots in 1965 – as well as in a (critical) confrontation with the most advanced currents of national and international independent cinema.
If at all, the memory of the L.A. Rebellion today rests on few key figures – Burnett, Gerima, Julie Dash. An extensive restoration project by the UCLA Film & Television Archive has now made it possible and necessary to reevaluate the unjustly forgotten movement, opening our eyes to a much larger group of filmmakers (including also Hispanic-American and Asian-American students, but that's another story); to an aesthetic spectrum by no means limited to neorealism (it includes furious agitation and highly reflective introspection); and to a discursive space far beyond the limits of what is now commonly understood to be "indie cinema."
What can be discovered, for example, are Ben Caldwell's lyrical Pan-Africanist essay films, Jamaa Fanaka's genre extravaganzas, or short-form masterpieces such as Melvonna Ballenger's agitprop poem, Rain. One of the greatest rediscoveries is the small yet fascinating oeuvre of director Larry Clark. His first medium-length film, the impressive formal experiment, As Above, So Below (1973), was considered lost until very recently, his political jazz film Passing Through (1977) is something like the secret heart of the movement – and the multicultural Western Cutting Horse (2002) perhaps its melancholy finale.
The curators of "Kino-Atlas", Hannes Brühwiler and Lukas Foerster, will introduce 5 programs in this 13-part series which also includes two Special Screenings: Spencer Williams' The Blood of Jesus (1941), an early example of independent African-American cinema in the U.S., and the remastered and expanded version of Thom Andersen's Los Angeles Plays Itself (2003/2013).
L.A. Rebellion: Creating a New Black Cinema is presented in association with UCLA Film & Television Archive. The original series at UCLA took place 2011, curated by Allyson Nadia Field, Jan-Christopher Horak, Shannon Kelley and Jacqueline Stewart. It was developed as part of Pacific Standard Time: Art in L.A. 1945–1980 and supported by the Getty Foundation and the Andy Warhol Foundation for the Visual Arts.
Related materials