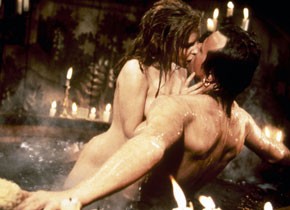 June 3 to 19, 2016
Here's a piece of instruction often heard on Paul Verhoeven's film sets: "Can you do it faster? Don't drag!" The director, born in Amsterdam in 1938, works like a compressor: he places pressure on situations and characters in order to unquestionably expose power relations, both on the small and large scale. This excess of visualization, not least in the form of shock montages, can be regarded as an essential signature of his cinema. It could have something to do with the fact that Verhoeven himself experienced social pressure while studying in the Dutch city of Leiden, at one of the nation's oldest and most conservative universities, where he earned a doctorate in mathematics in 1964. These constraints fueled his desire for provocation along with his penchant for the surreal: his breaches of taboo always spring from a precise knowledge of social norms.
 
Verhoeven's 14 feature films made since 1971 (joined this year by a 15th title, Elle with Isabelle Huppert) implicitly revolve around the following question: where – between genre and experiment, entertainment and subversion, commercialism and obsession – can an artist working with film find his place? In Verhoeven's case, the boundaries and opportunities of the politique des auteurs prove even less clearly identifiable than usual, since his oeuvre is divided into two worlds: the traditions of European philosophy, art and film (existentialism, Dutch painting, surrealism) – and Hollywood, a culture industry with enormous possibilities and enormously limiting parameters.
 
Never ceasing to challenge moral and technical boundaries in both worlds, Verhoeven has taken on the Establishment, sponsors and censorship boards, and even the counterculture (where his films have regularly been accused of perversion, misogyny, homophobia, fascism – or everything at once). Just like his often quoted "director of reference", Alfred Hitchcock, he is driven to arrange mainstream narratives as subversively as possible: there is hardly a single image in his films without ambiguity, irony, or a sense of doom to it. Another film lurks behind each film, just as sharp splinters of authorial intervention lie in wait at each turn of the generic road.
 
Already in Turkish Delight (1973), starring Rutger Hauer as an alter ego of the director, we are given to understand that artists in Verhoeven's cinema are unbalanced, non-conformist beings with almost terrorist inclinations. In The Fourth Man (1983), he brings the topic to a phantasmagoric head, subsequently putting it to the final test in Hollywood, where Basic Instinct (1992) meets with enormous success and Showgirls (1995) becomes a legendary box-office failure. The textures of his cinema, however, remain smooth throughout; if anything, they are even gloomier and campier in his American films than before.
 
Flesh+Blood (1985) marks the transition between these two production worlds, filmed in Europe with American money. Set against a medieval background, the film tells the story of two warriors battling over a woman, highlighting one of Verhoeven's favorite themes: the woman as a driving force of events. Flesh+Blood condenses each and every obsession that he will soon carry with him over the Atlantic: the bond between love and death, violence and sexuality; the fluid camerawork; the satirically formulated critique of leader figures, propaganda and the potential for violence in state and clerical institutions. Verhoeven is no stranger to Trojan horses, having already made use of a seemingly straight-out Dutch epic as a means of social critique (Soldier of Orange, focusing on Holland's role in the Second World War). This practice of "smuggling for the higher good" continued in Hollywood. Science fiction films such as RoboCop and Starship Troopers served him as vehicles for a pointed analysis of (post) Reagan culture.
 
In the new millenium, Verhoven turned his back on Hollywood (and vice-versa). With Black Book (2006), the story of a Jewish woman struggling for survival in Holland during the Nazi era, several threads from his past intertwine: the collaboration with author Gerard Soeteman, the genre intensity of his U.S. years and the social critique of his Dutch films come to intertwine. Above all, through daring images and a strong commitment to his protagonist, Verhoeven finds a fresh approach to his old favorite subject – the use of the body and sexuality as modes of survival vis-a-vis a machinery of repression and exploitation. 
 
We are delighted that Paul Verhoeven will be our guest at the Austrian Film Museum on June 8 and 9. On June 8, he will hold a masterclass: Paul Verhoeven in conversation with the curators Alejandro Bachmann and Matthias Wittmann. The retrospective presents 14 features directed by Paul Verhoeven.
No ticket reservation possible for the masterclass, advance ticket sales at the box office.
Related materials