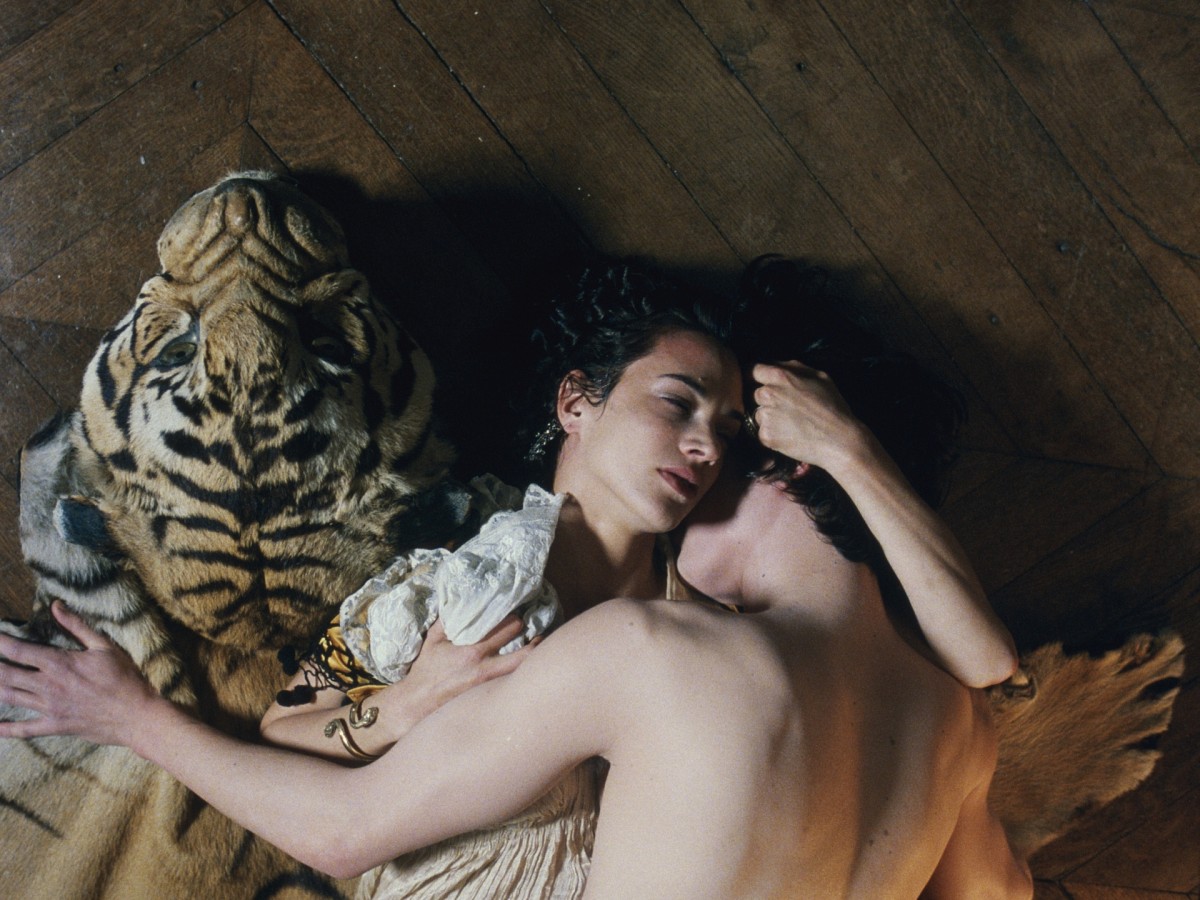 Catherine Breillat / Marco Ferreri
January 12 to February 26, 2020

French filmmaker Catherine Breillat (*1948) and Italian director Marco Ferreri (1928–1997) share a well-established reputation as "scandalous" auteurs. Undoubtedly, provocation has been a part of their craft, significantly shaping the perception of their work. Here is an exemplary and unforgettable sight: Ferreri, together with his world-famous stars, standing on the steps of the Palais des Festivals in Cannes after the controversial premiere of La grande bouffe (The Big Feast, 1973), happily smiling and blowing kisses to the audience, some of whom were firing insults and spitting at him.

But Marco Ferreri was not interested in breaking taboos; he was concerned with depicting present-day life in the capitalist world, which quite naturally landed him in the realm of the grotesque. In fact, hardly any other film has so literally implemented the idea of consumer society and its inevitable self-destruction as La grande bouffe, and therein lies his true provocativeness. Ferreri's unmistakable aesthetics – he himself spoke of "physiological cinema" – always focused on gender relations, which he subversively explored from the male perspective. Confronted with the collapse of an outdated patriarchy, his (almost exclusively male) protagonists flee from reality into various forms of regression, often with a radical outcome. Ferreri characterized his ruthless attitude towards his own gender by means of a quip, describing himself as "50 percent misogynist and 50 percent feminist."

The same radicalism, albeit in a completely different form and rooted in a resolutely female perspective, is characteristic of Catherine Breillat's work. What her films share with Ferreri's is an uncompromising, politically incorrect vision, which is equal parts passionate and cynical. But whereas Ferreri delights in sensualism, Breillat's approach is best described by the filmmaker herself in an interview published on the occasion of the release of her film Romance (1999), where she stated that she wanted to make a film that "burns like ice." Seldom has a filmmaker expressed their credo so succinctly and poetically, and yet so accurately. Breillat's cinema indeed burns like ice, and an embrace of seemingly opposing forces and ideas such as fire and ice, metaphysics and the everyday, sex and death, lies at the heart of all the films she has written and directed.

Born in the rural commune Bressuire, Breillat left her strict Catholic home at the age of 17 and went to Paris, where she wrote her first novel and immediately caused a stir on the French cultural scene: the book was banned for readers under 18 because of its open depiction of sexual subject matter. She wrote about things that no one else wrote about, and later on, as a film director, showed what no one else showed, in a way that was both shamelessly personal and unswervingly explicit. For example, a teenage girl's unbridled desire to have sex for the first time, no matter with whom, including sexual fantasies involving a dismembered earthworm being pushed into her vagina, as seen in her debut film Une vraie jeune fille (A Real Young Girl). Although Breillat completed the film in 1976, it wasn't released until 1999, the same year that she celebrated her international breakthrough with Romance and was discovered as a designated "provocateur" and artist beyond the confines of France.

Over the years, Breillat worked obsessively – but not exclusively, as works such as the enigmatic historical film Une vieille maîtresse (The Last Mistress, 2007) prove – with taboos and sexual experiences. Her female protagonists (male leads are a rare exception in her filmography) are driven by an uncontrollable urge, an urge for sex beyond any manner of conventional moral concepts, time and time again, across all generational borders. Violence as wish fulfillment, desire as death wish: In Breillat's films, sex is not a distillation (or reduction) of love, but love itself. Her art knows no taboos, but despite the drastic nature of her depictions of sex and violence, she tackles her transgressive subjects with astonishing delicacy – heading in the opposite direction of the abusive tendencies of exploitation cinema and their milder form found in mainstream cinema.

Not only do Breillat's characters burn with passions; they are literally consumed by their flames. Above all else, they crave moments of self-forgetfulness in which their flesh can melt with that of their lovers. In this respect, Catherine Breillat stands alone in French as well as European cinema: She is the flesh-sister of David Cronenberg and Ōshima Nagisa, two filmmakers whom she admires beyond measure.

And yet Breillat has a kind of antipodean nonconformist soulmate in the Milanese Marco Ferreri, whose position in European and Italian cinema is similarly unique. His characters are also driven by obsessions and unfulfillable longings – his penultimate film is fittingly called Diario di un vizio (Diary of a Mania, 1993) – and in following these they transgress all social norms. As with Breillat, the rebellion of Ferreri's characters often leads to absurdity, but in his case it is charged with different substance: Instead of French philosophy, the spirit of the Commedia all'italiana permeates his work, even when it reaches apocalyptic dimensions. A former liquor salesman, Ferreri had become a small key figure in Italian cinema in the 1950s, but made his debut in Spain, in fruitful collaboration with the author Rafael Azcona (who will be honoured at the Film Museum next March as a frequent collaborator of the great Spanish director Luis García Berlanga).

Together with Azcona, Ferreri created Spanish equivalents of the Commedia such as El cochecito (The Little Coach, 1960) before returning to Italy and producing a series of masterpieces of the same genre that demonstrated his idiosyncratic approach. The first, Una storia moderna: L'ape regina (The Conjugal Bed, 1963), already earned Ferreri the reputation of a "scandalous director." Ferreri's penchant for anarchic gestures was coupled with bitterly angry descriptions of society as well as pessimistic and sarcastic, but always compassionate images of relationships, which at the same time serve as X-rays of an era of increasing alienation following prosperity. It is no coincidence that many of Ferreri's star actors repeatedly gave some of the peak performances of their career in his films: Annie Girardot, Catherine Deneuve, Ornella Muti or Hanna Schygulla as well as Gérard Depardieu and Michel Piccoli. Especially in the case of Ugo Tognazzi and Marcello Mastroianni, who revealed an otherwise undreamt-of vulnerability in Ferreri's films, the longstanding collaboration and friendship of the director and his actors led to incomparable results.

However, despite the big names, Ferreri's signature remained the defining feature of his films, especially when La grande bouffe and La dernière femme (The Last Woman, 1976) caused both outrage and admiration. In retrospect, the excitement has long since faded, but what remains is the pertinence of his social analysis and above all the sensual pull of his idiosyncratic but effective staging. Nowadays, Dillinger è morto (Dillinger Is Dead, 1969) seems not only like the very essence of Ferreri's style, but also the ultimate model for art cinema in decades to come, which Ferreri contributed to with a series of major works until his premature death, even if these films no longer elicited the same reactions. The retrospective is also an opportunity to discover late triumphs such as the programmatically titled drama Il futuro è donna (The Future is Woman, 1984), a kind of feminist reversal of the L'ape regina, or the Berlinale winner La casa del sorriso (The House of Joy, 1991). (Christoph Huber, Jurij Meden)
 
Catherine Breillat will be our guest at the Austrian Film Museum on January 17 and 18.

The retrospective is organized in cooperation with Cineteca Nazionale, Istituto Luce Cinecittà, and Cinémathèque suisse, with the generous support of Istituto Italiano di Cultura di Vienna.
Related materials