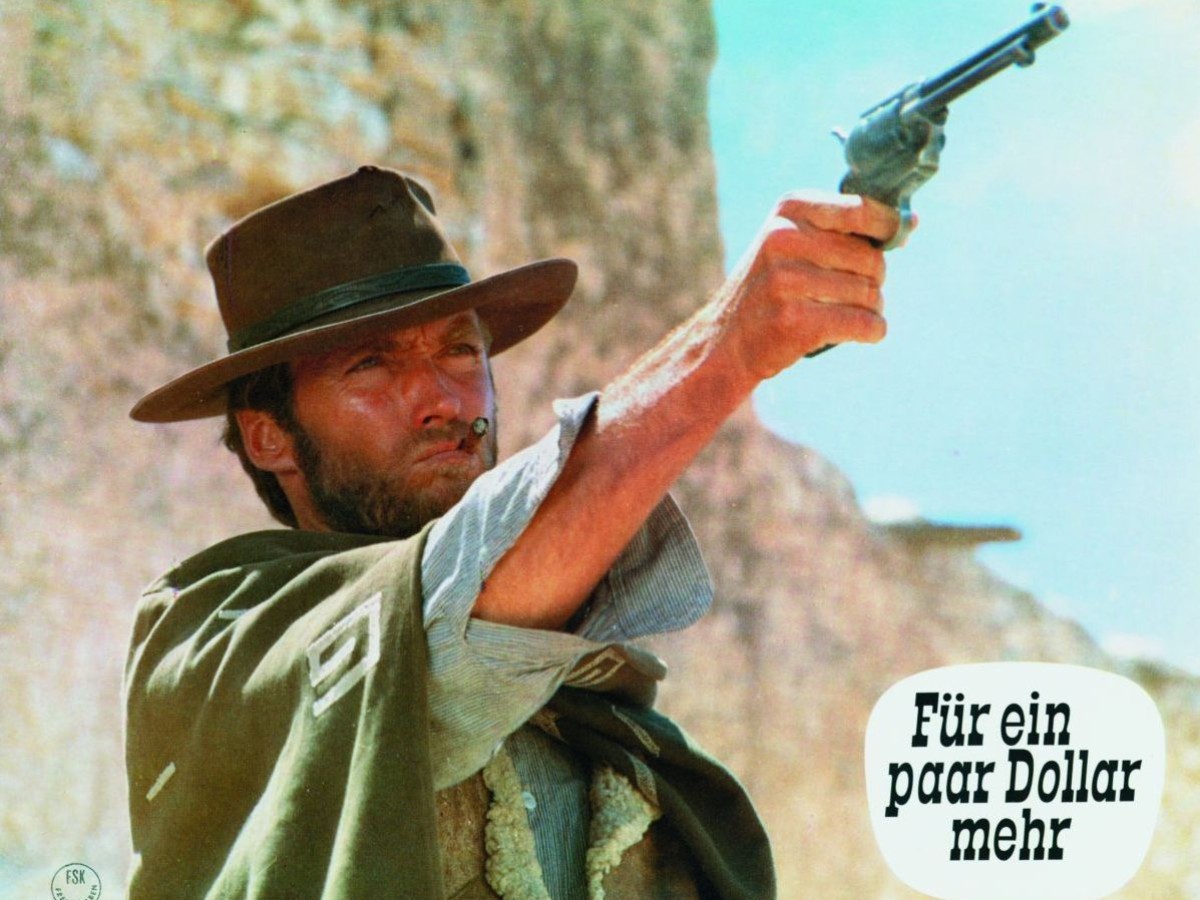 Per qualche dollaro in più / For a Few Dollars More
Regie: Sergio Leone; Drehbuch: Sergio Leone, Luciano Vincenzoni, Fulvio Morsella; Kamera: Massimo Dallamano; Schnitt: Eugenio Alabiso, Giorgio Serrallonga; Musik: Ennio Morricone; Darsteller*innen: Clint Eastwood, Lee Van Cleef, Gian Maria Volontè, Mara Krupp, Klaus Kinski.
IT/ES/BRD, 1965, 35mm, Farbe, 130 min. Englisch
Sergio Leone oder 20 Arten, John Ford zu Grabe zu tragen: dem Western so gründlich und feist den Boden des Westens mitsamt Mythos zu entziehen, dass einzig, aber circensisch das Kino überlebt. Once upon a time: the cinema. Van Cleef und Eastwood treten als
bounty killer
mit ausgelöschten Mienen gegen eine Horde rhetorisch wie grausam agierender Tötungsharlekine mit Sombreros und natürlich auch, gravitätisch, gegen sich selbst an – in entweihten Kirchen, kreisrunden Arenen und schneeweißen "mexikanischen" Dörfern, die mit überbordenden Leichenkarren und Kalkmauern an antike Theaterkulissen gemahnen. Eine makabre Perlenschnur zerdehnter "großer Augenblicke", untermalt von pfeifenden Lippen, klingenden Glocken, eunuchischen Chören und einem wollüstig belfernden Gebell der Schüsse. Leones Kunst besteht in der Beschwörung dieser niemals schnell, sondern immer lechzend verzögert herbeigeführten Augenblicke. In solchen Momenten zerbricht Leone den visuellen Kanon des US-Western endgültig. (H.T.)
Freier Eintritt für Fördernde Mitglieder am 13.1.
Wir bedauern mitteilen zu müssen, dass die Vorstellungen von
Once Upon a Time in America
und
C'era una volta il West / Once Upon a Time in the West
von Samstag, 15.1. verschoben werden müssen auf Sonntag, 30.1. bzw. Samstag 22.1. Stattdessen zeigen wir am 15.1. alle drei Teile der Dollar-Trilogie.
Weitere Informationen