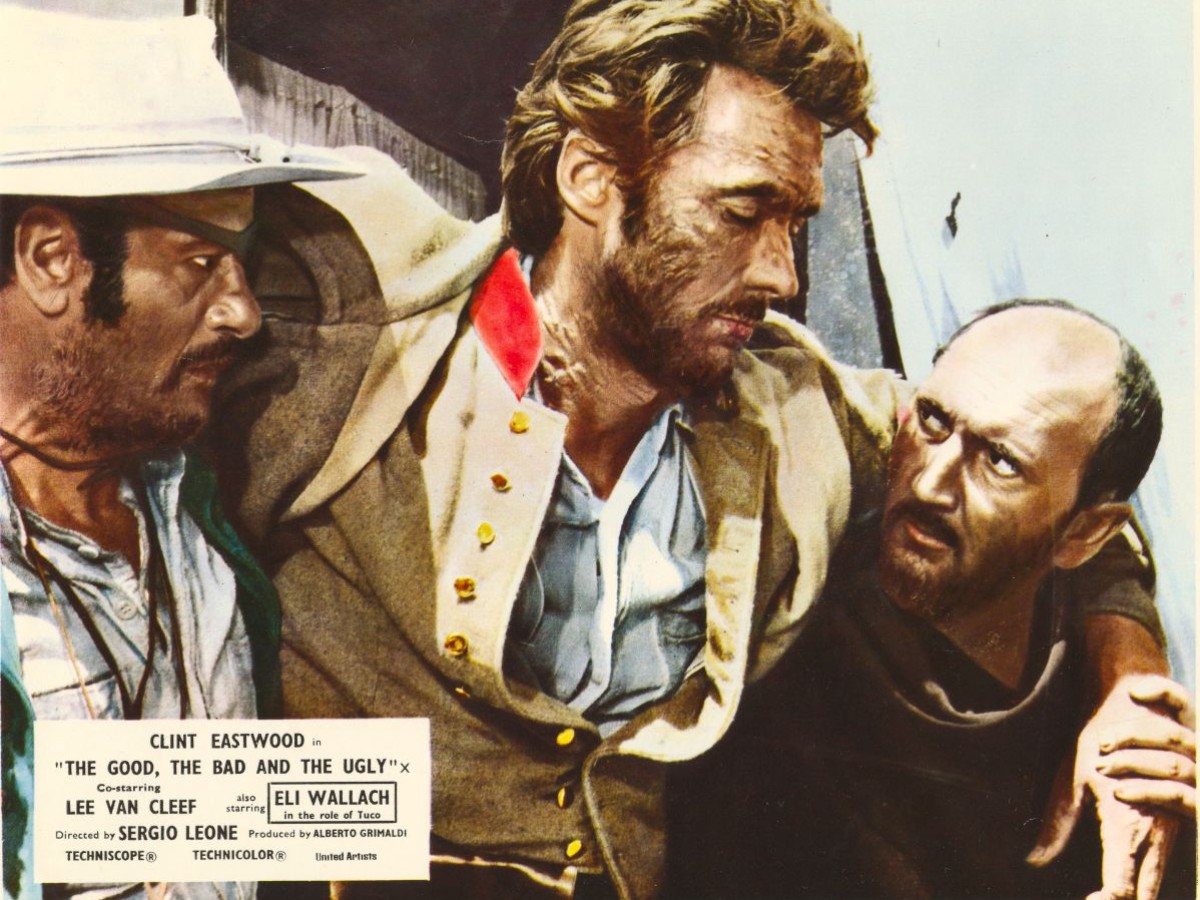 Il buono, il brutto, il cattivo / The Good, the Bad and the Ugly
Regie: Sergio Leone; Drehbuch: Sergio Leone, Agenore Incrocci, Furio Scarpelli, Luciano Vincenzoni; Kamera: Tonino Delli Colli; Schnitt: Eugenio Alabiso, Nino Baragli; Musik: Ennio Morricone; Darsteller*innen: Eli Wallach, Clint Eastwood, Lee Van Cleef, Aldo Giuffrè, Luigi Pistilli.
IT/ES/BRD, 1966, 35mm, Farbe, 179 min. Englisch
Der perfekte Schlussteil der Leone-Trilogie:
The Good, the Bad and the Ugly
empfiehlt sich als barockes Bankett von Exzessen, als Burleske über Gemetzel, Folter und Tod und als Amoklauf der Gegensätze. Statt dem ruhigen Rhythmus klassischer Western: das Bombardement des Hastigen durch das Gedehnteste. Statt weiten Räumen und Totalen: das Stakkato von long shots und close-ups, in dem Horizont und Bartstoppel unvermittelt aneinander geraten. Die Zooms röhren, die Kuleshov-Montage knirscht, die Großaufnahmen malträtieren das Auge, und Maestro Leone wütet als Herkules der Regie und kinematographischer Michelangelo. Keine karge Speise, sondern pervers geile Opern-Spaghetti mit Speck, panna und tomatenrotem Blut, begleitet von celestisch synthetischer Morricone-Musik und Tänzen von dem Grabe entgegentorkelnden Marionetten. (H.T.)
Wir bedauern mitteilen zu müssen, dass die Vorstellungen von
Once Upon a Time in America
und
C'era una volta il West / Once Upon a Time in the West
von Samstag, 15.1. verschoben werden müssen auf Sonntag, 30.1. bzw. Samstag 22.1. Stattdessen zeigen wir am 15.1. alle drei Teile der Dollar-Trilogie.
Weitere Informationen