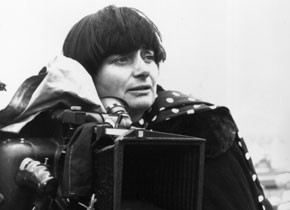 Demy / Varda: Fims by Agnès Varda
October 2 to 31, 2006
 
This year's joint Retrospective of the Austrian Film Museum and the Viennale is an unusual programme: a show which consists of two parts but remains one unit. The two artists who made these wonderful films had extremely different personalities, and yet they were a couple for several decades.

In their professional lives, their film work intersected only rarely; at the same time, their oeuvre is indeed intertwined in many respects, even if this is not always immediately apparent.
We are talking about Jacques Demy, who died in 1990, and Agnès Varda, who is now 74 years old. With Jacquot de Nantes, one of the most beautiful films about childhood ever made, Varda created a cinematographic declaration of love to her husband at the end of his life.

Originally a photographer, Agnès Varda entered the realm of film as a pure autodidact, a cinematic primitive in the best sense of the word, and this approach can still be sensed in her works today. With three feature films, made between 1955 and 1965 (La Pointe courte, Cléo de 5 à 7 and Le Bonheur), she established a place for herself between the directors of the "Nouvelle Vague" and the artists of the "Left Bank" as a fully independent and distinctive filmmaker.

In 1962, she married director Jacques Demy, who had just launched his feature film debut with Lola (1960), a proletarian melodrama in CinemaScope, unparalleled in the French cinema of the time. Thus, two unconventional, sophisticated and cinemanic melodies were intoned, two ranges and tonal values by the names of Varda and Demy.

Varda became the author and chronicler of the confusions and events of daily life, a Parisian street (Daguerréotypes), a pregnant woman (L'Opéra-Mouffe), a desperate drifter (Vagabond), a small seaside resort (Ulysse), and a seemingly happy family (Les Créatures).

Demy became a true "metteur en scène", an inventor of great, utopian film narratives, stories of singing and dancing sisters in a small provincial town and their dream of a better life (Les Demoiselles de Rochefort), of a mysterious stranger and lover who disappears in America (Model Shop), and of the fairy tale about a bewitched and unredeemed beauty in a donkey's skin (Peau d'ane).

What Varda finds in the streets, the apartment and the open field, Demy finds in childhood, colours, and music. And sometimes it is the other way round: the tawdry hotel room and street café in Demy's Bay of Angels (1962) versus the gloriously colourful, playful stylization and cinematic pop art in Varda's Lions Love (1969).

The expression of a true affinity, the moment when the two encounter each other, is their deep and unsentimental relationship to the so-called "simple people" who are, just like their lives, anything but simple. These are the people to whom Jacques Demy and Agnès Varda devote their love, respect and tenderness, in films from The Umbrellas of Cherbourg (1963) to Une Chambre en ville (1982) and The Gleaners and I (2000).

In the framework of this show, all of Jacques Demy's films can be seen, from his early documentary shorts to his last work, Trois places pour le 26 (1988) with Yves Montand. The extensive selection of Agnès Varda's works describes the major part of her oeuvre and constitutes the other part of this year's Festival Retrospective.

Agnès Varda, Rosalie Varda and Mathieu Demy will be in Vienna during the Retrospective, and will talk about the films at various screenings. An extensive catalogue publication will be released to coincide with the Retrospective.
Related materials