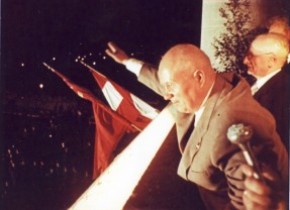 Film Documents and Contemporary History:
Post-war reconstruction and the Austrian Communist Party
September 28, 2008
 
On September 28, the day of Austria's upcoming elections for parliament, the Film Museum's presentation of Film Documents and Contemporary History will be dedicated to a political party which hardly registers anymore in the Austrian public awareness: the Austrian Communist Party (KPOe).
 
This collective loss of memory applies not only to the role of Communists in the active Resistance against National Socialism and in the re-founding of the Austrian Republic, but also to the controversial distribution of social and political burdens in the so-called "Reconstruction" period of 1945-55. The decline of the KPOe following the failure of the general strike in October 1950 cannot be separated from its unconditional loyalty to the Stalinist Soviet Union.
As one of the constituent forces of the Republic, and as one of the governing parties from 1945-47, the KPOe left numerous traces of its political significance and its socio-cultural milieu in many films up until the 1970s. These include newly discovered small-gauge films restored by the Film Museum which herald the party's "reconstruction work" in the autumn of 1945, as well as newsreels produced under Soviet control and compilation films such as Sturmjahre/Years of Storm which was subsidized by Viennese cultural authorities. Another rare and controversial document in this context is Roman Karmen's feature-length film about Nikita Khrushchev's weeklong visit to Austria in July 1960.
 
The films will be introduced by the curators Siegfried Mattl and Michael Loebenstein, and open to discussion by the public and invited guests after the screening. The programme begins at 2.30 p.m., including, at 5 p.m. and at 6 p.m., Austrian Television's live broadcast of the preliminary election results.
For each series, films are listed in screening order.