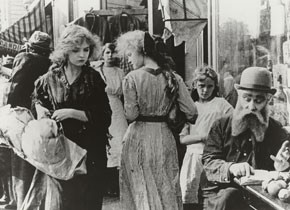 Griffith, The Revolutionary
November 5 to 28, 2010
If the popular label attached to Erich von Stroheim was "the man you love to hate", the one to be adopted for D.W. Griffith should be "the man you hate to love". The 465 films he made for the Biograph company between 1908 and 1914 earned him the reputation of the artist who singlehandedly changed the path of film as art; but it took just one feature, The Birth of a Nation (1915), to turn him into the epitome of reactionary cinema. One hundred years later, both prejudices are still alive and well.
Griffith was sincere in expressing his indignation against the allegations of racism in The Birth of a Nation. He believed in social justice (A Corner in Wheat, an indictment of market speculation, is widely considered his masterpiece), and thought that film could be of concrete help in achieving it. He regarded filmmaking as a form of poetry and realized this ideal in some of the most extraordinary works ever conceived for the silent screen. He thought of himself as a revolutionary, and in many respects he was, given his firm, unflinching belief that cinema could actually change the world.
Hailed in a famous 1941 essay by Sergei Eisenstein as the ultimate expression of cinematic power, The Birth of a Nation is still the most controversial film ever made – celebrated as a cornerstone of film style and vilified as an awkward and abhorrent tool for segregationist propaganda: abhorrent because blatantly manipulative, awkward because it is a work of genius. Public screenings of The Birth of a Nation are unwelcome in the United States, and they are barely tolerated in an academic context as long as the film's ideology is dutifully stigmatized before talking about alternate editing or narrative structure. To put it bluntly: the film represents cinema in its essence – too bad it should be kept under surveillance; or, it should be politically quarantined – too bad it represents cinema in its essence.
Those who have heard about The Birth of a Nation are keen to mention its libertarian counterpart, Intolerance (1916), Griffith's own avant-garde statement. Here, again, clichés are to be found in abundance: Intolerance, the film cursed by its astronomical budget (not true), the film that ruined Griffith's career (not true, either), the utopian film one can admire but can't get emotionally attached to (not true, unless one despises utopia). No less common is the subdivision of Griffith's career into two broad categories, the "Biograph period" and the thirty-one feature films that followed, from Judith of Bethulia (1914) to the box-office disaster of The Struggle (1931), perhaps his most underrated work.
The 'two epochs' rhetoric reflects opposite views on Griffith's artistic trajectory: For some, the Biograph films represent the uneven journal of a five-year apprenticeship culminating with the contentious tour de force of The Birth of a Nation. For others, the Biograph films document the peak of Griffith's creative output, later codified in the "often beautiful but more conventional" post-1913 feature films. In plain language, the two theories could be summarized as follows: all Biograph films look all alike, but we are supposed to endure a dozen of them before getting to the juiciest stuff, beginning with The Birth of a Nation; or, Griffith has given his best at Biograph, and after Broken Blossoms (1919) and Way Down East (1920) he might as well have closed up shop and enjoyed an early retirement.
While there may or may not be some truth in both perspectives, both tend to oversimplify a much more complex picture. Let's set the record straight: Griffith did not 'invent' modern cinema, any more than Mozart invented the classical sonata or James Joyce the stream of consciousness. Yet, like Mozart and Joyce, Griffith had the gift of interpreting and transforming the cinema of his time into a full-fledged vision of the world. The fact that this vision is so distant from our current way of thinking is not a good enough reason to ignore how he managed to give it such a coherent and compelling form. Today, D.W. Griffith is by all means an unfashionable filmmaker. However, this situation presents an opportunity to get to know him better for who he really was, rather than for who we would have liked him to be. If we accept the notion that Griffith did not 'invent' anything new, why is it still appropriate to call him a revolutionary? Why did Eisenstein write about him in such enthusiastic terms? Moreover, if The Birth of a Nation is really the racist film we are told it is, who is the Griffith behind the egalitarian dream of Intolerance? How did he truly feel about history and society, and how did he come to believe that moving images could most faithfully transmit those feelings?
Griffith did not operate in a vacuum: major personalities such as Cecil B. DeMille, Thomas H. Ince and Lois Weber gave distinctive interpretations of Griffith's style; other filmmakers, from Giovanni Pastrone and Maurice Tourneur to the lesser-known but supremely gifted Harold Shaw, George Loane Tucker and William C. deMille, shaped the context of the filmgoer's experience in Griffith's era. Some of their works are featured in this series for comparative or counterpoint purposes; a contemporary artist, Jon Jost, has also been selected as an outstanding example of how deeply Griffith's legacy continues to be felt today. Griffith deserves to be seen with fresh, unprejudiced eyes – not in order to absolve or condemn him, but to better understand his trust in the power of cinema.  (Paolo Cherchi Usai)
Paolo Cherchi Usai, the curator of this series, will introduce several films and teach a course at the Film Museum from November 5 to 11: "D.W. Griffith, Film History and Curatorship" (Department of Theatre, Film and Media Studies, University of Vienna). Numerous screenings in the retrospective will feature piano accompaniment by Elaine Brennan and Gerhard Gruber.
"Griffith, the Revolutionary" has been organized with the kind support of the Museum of Modern Art, New York, and many other film museums and archives.
Related materials