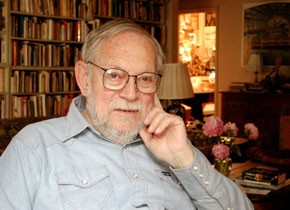 Film as a Subversive Art: An evening for Amos Vogel
April 18, 2011
Vienna-born Amos Vogel, one of the most significant curators, film activists and film writers of the past century celebrates his 90th birthday in New York on April 18. For this occasion, the Film Museum is dedicating an evening to Vogel, founder of the legendary Cinema 16, co-founder and director of the New York Film Festival as well as the author of the standard text, Film as a Subversive Art.
The first program is devoted to a biography of this cineaste, who fled the Nazis in 1939. Egon Humer's film portrait Amos Vogel. Mosaik im Vertrauen (2001) is a unique balancing act, its visual texture alternating between video, super-8 film and archival material, accompanied by Vogel's spoken off-camera associations: a film about an eviction, a film about a 55-year marriage, a film about the history of cinema which Vogel had discovered during his teenage years in Vienna. Night Mail, a documentary film-poem by Harry Watt and Basil Wright (1936) was a formative film experience for him, and will also be screened.
The second half of the evening is an hommage to Cinema 16, the largest and most well-known film club in the U.S., with which Amos Vogel rendered extraordinary and invaluable service to independent film. The five selected shorts stand as examples of Vogel's seemingly inexhaustible interest in formal and thematic diversity: from early cinema (Chaplin's The Immigrant) to animated political film (L'Idee by Berthold Bartosch, 1932), classic avant-garde (The Private Life of a Cat by Alexander Hammid and Maya Deren, 1945/46), allegorical anti-Vietnam polemic (The Big Shave by Martin Scorsese, 1967) and the breaking of documentary taboos (Joseph Strick's Interview With My Lai Veterans, 1971).
Jointly organized by the Film Museum and SYNEMA, the two programs will be introduced by Brigitte Mayr and Michael Omasta. They will also present a new brochure with essays by and about Amos Vogel (SYNEMA-Publikationen, Vienna 2011).
Related materials