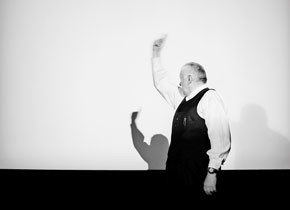 March 23 to April 9, 2014
 
On March 23, 2014, Peter Kubelka celebrates his 80th birthday. The co-founder of the Austrian Film Museum (1964) and Anthology Film Archives (1970) is a true renaissance man: teacher, musician, cultural critic, collector of archaeological objects, Judoka and track athlete, theoretician and practitioner of the culinary arts – and one of the most important filmmakers of all time.

Over a two-week period, the Film Museum will repeatedly screen all of his films along with lectures by and about Peter Kubelka. Rare film documents relating to different phases of his work and a rich selection of films made by his former students at the Städel School in Frankfurt will also be shown. Monument Film, his acclaimed projection performance work of 2012, will be presented for the first time in the "Invisible Cinema", the type of space first conceived by Kubelka in the late 1950s.

When Peter Kubelka cooks, he uses the simplest ingredients at hand: local cuisines, just like normal people eat or, rather, what they used to eat up until fairly recently. Kubelka's films, on the other hand, are often considered strange or even elitist, and not as easily digestible as "normal movies". In fact, the opposite is true: Kubelka's films are as simple as his food recipes – and they also use the ingredients at hand. They emanate from the materials and basic elements of the medium, emphasizing both the handmade aspects of film and its capacities for (philosophical) playfulness. Following Kubelka, one could say that this is how normal people would make films, or, rather, how they would have made films up until fairly recently.

Despite his seemingly systematic, structuralist approach, and in spite of the long editing process for each of his films, it is the immediate and overpowering physical effect of Kubelka's works that stands at the center of his art. He creates "projection events" with the aim of intoxicating the viewer, inviting us to share his own joy in speed, rhythm, contrast, and momentary metaphors – as in his first film, Mosaik im Vertrauen (1955), which combines newsreel images of an auto racing catastrophe with the common exclamation in Austrian dialect, "Jetzt hod's eam z'rissen!" ("tough luck for that dude!"). In Kubelka's so-called metaphorical films such as Our Trip to Africa (1966), his relationship to the real world is demonstrated as clearly as his love of the inner beauty of film. "My politics were always only about film," Kubelka has often said, but he is also an artist who reports on his era and society, even if these reports are buried deep within his "film crystals."

With his so-called metrical films – Adebar (1957), Schwechater (1958), Arnulf Rainer (1960) and Antiphon (2012) – Kubelka presents his research into cinematic articulation and cinematic time in the most concentrated manner imaginable. Yet these films, when viewed in contrast with the traditional categories of art theory, are in no way abstract. Kubelka: "When something becomes abstract, it suffers a huge loss of energy." Rather, these films speak of the medium in the most concrete terms. Just as the vocal, bodily presence of speech replaces writing in Kubelka's practice as a teacher and critic, so do his films articulate their ideas as films – far beyond the literary, painterly, theatrical and academic traditions of mainstream cinema.

Kubelka is a philosopher outside the official philosophy: a late Viennese modernist who, for the transmission of his very accessible "tracts," has always avoided the abstraction that comes with "putting things in writing." Most of these "things" usually have their own, original way of inscribing themselves in the world, and it is those forms of inscription that Kubelka places at the beginning of all poetics, aesthetics and cultural history. Thus, cinema is also "pre-dated" into a time before mankind started to employ writing to describe each and every thing, and before written language became the only measure for scientific achievement. For Kubelka, artistic thought is at the origin of all great inventions: "To ask a good question of the universe is an artistic act."

For Peter Kubelka's 80th birthday, the Film Museum will also release Martina Kudláček's epic documentary, Fragments of Kubelka (2012) on DVD for the first time. After completing film portraits works on Alexander Hammid, Maya Deren, and Marie Menken, the Austrian filmmaker has once again displayed her talent for subtle yet insistent observation of an iconic figure of avant-garde film. Peter Kubelka's life work and "performative" method demand a flexible narrative form, at which Martina Kudláček excels: the patient casting of a wide historical net and the crystalline condensation of knowledge in momentary flashes. The theatrical screening of Fragments of Kubelka on April 9 marks the end of the exhibition.

Peter Kubelka will be present throughout the series. Other guests include Paolo Cherchi Usai, Simon Field, Heinz-Norbert Jocks, Martina Kudláček, and Harry Tomicek. The double DVD set contains a multi-lingual booklet with new essays by Nicole Brenez, Tom Gunning and Christian Höller – as well as Peter Kubelka's concise interpretation of the Wiener Schnitzel.
Projects in the framework of the Film Museum's 50th anniversary are supported by the Austrian Film Institute, the City of Vienna and the Austrian Federal Chancellery
Related materials