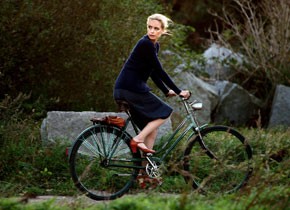 Christian Petzold
Complete Works and Carte Blanche
April 7 to May 4, 2016
When the Austrian Film Museum first dedicated a retrospective to Christian Petzold (b. 1960), his film Die innere Sicherheit (The State I Am In, 2000) had just "launched him from an insiders' tip to one of German cinema's most important protagonists" – an assessment that has since been confirmed several times over. As he perfected his unmistakable style (in fruitful collaboration with his co-writer Harun Farocki), award-winning films such as Gespenster, Yella and Jerichow pushed him ever further into the international spotlight.
 
Petzold works on phantom images of contemporary Germany, fed by a strong cinephiliac passion. He often invokes Claude Chabrol as a reference point, especially when it comes to the role of découpage. For both directors, film narration relies less on writing than on precise decisions about perspective, framing, and camera movement in a succession of shots. This choice of "cinematic terms" creates a terrain where subject, characters, and photographic realism can truly intertwine. Avoiding both the faux-documentary styling and the message-mongering which characterize large swaths of current art cinema, Petzold aims for a pared-down idea of artificiality – representing in concrete pictorial form what is latently present in his subject matter and in society: "Cinema is incredibly well-versed in the area of dreams and suppression. It doesn't discover these things, of course, but the collective unconscious finds images and sounds in cinema. It deals with people who break under the circumstances and put up a fight."
 
In recent years, Petzold has extended his explorations of the unconscious to historical subjects: the 1980s GDR story Barbara and the post-war psychological thriller Phoenix became his biggest international successes with audiences and critics alike. The only community to find fault with Phoenix was the German film scene – bearing evidence of the unique position Petzold has achieved. As his cinema moves further and further away from the conventional modes of the German film industry and its dreary consensus about debate-worthy topics, the subtle richness of his films appears to be more and more "foreign" to his compatriots.
 
Ever since his graduation feature, the road movie Pilotinnen (1995), Petzold's work has been marked by a cool and meticulous fusion of German reality and mythical blueprints, especially when it comes to his beloved genre of crime fiction (e.g. rewriting The Postman Always Rings Twice against the backdrop of the Afghanistan War in Jerichow). He is no stranger to ghost stories either: The State I Am In is haunted by the RAF past, Yella by the economic "annexation" of Eastern Germany, while Phoenix summons the phantoms of the Holocaust – putting on an upscale zombie version of Orpheus and Eurydice with highlights of Fassbinderian melodrama, Franjuian horror and an all-embracing noir ambivalence. Last but not least, Phoenix strongly reinforces the point that Petzold has always made films about love: another myth at the core of cinema.
 
The 21 films he has selected for his Carte Blanche program take us further into Christian Petzold's notion of his chosen discipline. For him, cinema is a "Proustian medium", anchored in processes of recollection: "Some think that reflection ruins the vigour and freshness of one's approach, but I believe it leads to another kind of authenticity." These are the films he watches together with the crew and the actors in preparation for making a film. "Cinema is a collective, we have to be well-aligned, just as if we were preparing a bank robbery." New perspectives are gained along the way: "The film becomes another film if one sees it in the company of two different actors."
 
The relation between Petzold's Carte blanche titles and his own films is only partly thematic. For instance, István Szabó's Bizalom corresponds with Phoenix through its world war topic, but above all in its portrait of a couple whose relationship begins as a game and grows into love. Robert Siodmak's Phantom Lady engrosses Petzold by virtue of its "weak men" and the absurdity of its plot complications. A strong woman such as Petzold's Beischlafdiebin echoes back to a supporting character in Don Siegel's gangster film Charley Varrick. Points of contact may also be provided by certain patterns of cinematic movement – filming a long walk (Gespenster and La Fille seule) or depicting "motorized phantoms" (The State I Am In and Near Dark) – or via characters who make similar choices under different historical conditions (Yella and American Gigolo/Pretty Woman).  
 
That is how a Proustian medium can remind itself (and its viewers) of its (and their) places and times. Christian Petzold works toward maintaining this strength in the 21st century flood of images. His films tell us a true story of Germany and of the cinema, and what it means to dwell there.
 
At the Film Museum, Christian Petzold will hold several Q&As, a masterclass in collaboration with the Vienna Screenwriters Forum, and, together with Ralph Eue and Linda Söffker, a seminar for students of the University of Vienna.
Related materials