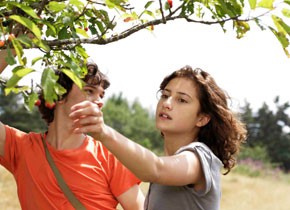 Premiere:
"Easy Rider" by James Benning and "Un amour de jeunesse" by Mia Hansen-Løve
October 29 / November 14 and 16, 2012
On October 29, in collaboration with the Viennale, the Film Museum will screen James Benning's second "remake" of an American classic: following his reworking of John Cassavetes' Faces (1968) last year, Benning has now turned his focus to a film which is easily one of the most iconic works for his generation: Easy Rider (1969) by Dennis Hopper. "Easy Rider interests me in two ways: its portrayal of 1960s counterculture and its search for place. I divided the original film into scenes and then replaced each scene with one shot filmed at the original location. My Easy Rider tries to find today's counterculture (if one exists) by replacing the 1960s music with music that I listen to today." (James Benning)
On November 14 and 16, the third feature film by 31-year-old French filmmaker, Mia Hansen-Løve will receive its Austrian premiere at the Film Museum. Following Tout est pardonné (2007) and The Father of My Children (2009), Un amour de jeunesse (2011) once again demonstrates the director's unusual subtlety in delineating the course of her young protagonists' lives, tracing their most intimate feelings with great accuracy and using ellipses – and songs – to create a rhythm all her own. The film tells a story of young love and a story about growing up: teenagers Camille (Lola Créton) and Sullivan (Sebastian Urzendowsky) spend an intense summer (1999) together, before he goes to South America for one year; that year turns into many, and it is only in 2007 that Sullivan returns to Camille's life.
Both filmmakers will be present at their respective screenings.
Related materials