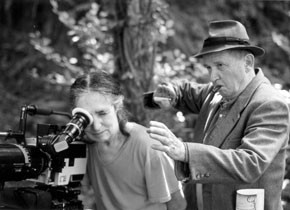 The Grapes of Wrath and Tenderness: Jean Marie Straub / Danièle Huillet and Selected Films by John Ford
October 1 to 31, 2004
 
For over four decades, the films of Danièle Huillet and Jean-Marie Straub have been woven into the history of modern cinema as a continuous thread. Rare documents of aesthetic and political resistance to the world's conditions, they are at the same time works of great lyric beauty and radical social formulas. Their films provide examples of concrete utopias, exude happiness, and are marked by irreconcilability, rebelliousness and a gentle appearance. Danièle Huillet and Jean-Marie Straub's œuvre is, when regarded today, an always fresh, exciting and inimitable succession of films on history, painting, nature, politics, music, language, bodies, rhythms and forms.
 
The films of Straub/Huillet have long been an important part of the VIENNALE's program, and this year the joint retrospective of the festival and the Austrian Film Museum looks at the totality of their output: from the early works such as Nicht Versöhnt (1964-65) and Chronik der Anna Magdalena Bach (1967) to the "Roman" films Othon (1969) and Geschichtsunterricht (1972), and their great films of Schoenberg, Pavese, Kafka, Hölderlin and Cézanne, and finally the recent trilogy based on texts by Elio Vittorini.
 
Together with the oeuvre of Straub/Huillet, 25 films by John Ford will be presented at the Filmmuseum. The two filmmakers have put together a selection of Ford's work, drawing on their personal experience and years of watching Ford films. For Straub and Huillet, the Brechtian aspect in Ford's work was always highly interesting, as well as his concrete way of dealing with history. They also speak about the exciting relationship between narration and documentation present in all his films, the precise portrayal of social conditions, practical gestures and human attitudes – and about Ford's wonderfully unsentimental and moving moments of community and utopia, shown with an unequalled beauty and simplicity.
The selection includes a number of lesser-known silent films from the 1920s, early talkies and several classics such as The Grapes of Wrath (1940), The Long Voyage Home (1940) and She Wore a Yellow Ribbon (1949) in addition to The Sun Shines Bright (1953), The Long Gray Line (1955), and the late works Cheyenne Autumn (1964) and Seven Women (1965).
 
Danièle Huillet and Jean-Marie Straub will be visiting the Retrospective as guests of the festival. Further guests include Jean-Pierre Gorin, Tag Gallagher and Hartmut Bitomsky. A comprehensive catalogue is being published on the occasion of this show.
Related materials