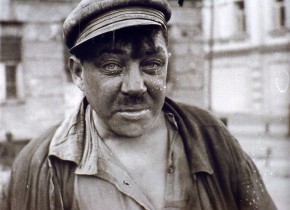 Edition Filmmuseum:
Enthusiasm and Heavy Labour
October 28, 2005
To launch the new DVD label Edition Filmmuseum, the Film Museum invites its audience to an evening which deals with the relations between film history and current media culture, and at the same time focuses on the status of labour around 1930 and today.
Two films will be shown: Dziga Vertov's Soviet classic Entuziazm (1930) to which the first volume of the new DVD edition is dedicated, will be followed by Michael Glawogger's Workingman's Death (2005), an outstanding example of contemporary documentary film which takes its outset explicitly from Entuziazm and moves from the mythic realm of "heroic workers" to the reality of heavy labour in the 21st century.
Entuziazm, a masterpiece of both documentary and avant-garde film, and a film which was admired by both Charlie Chaplin and Walter Benjamin, is a cine-symphony about the Soviet five-year plan of the late 1920s. At the very beginning of the sound film era, Vertov demonstrated the possibilities of the new medium. The complex "choir" of image and sound celebrates not just the heroes of labour and the changes initiated in the Soviet Union, but the cinematic apparatus itself.
75 years later, in the era of the digital (at office desks as much as in the entertainment industry), both the "disappearance of labour" and the "death of cinema" are taken as a given. Workingman's Death contradicts this rhetoric in two ways. Explicitly, when it comes to labour: Glawogger describes people, places and processes which today are still marked by heavy physical labour. Implicitly, as far as the medium of film is concerned: Workingman's Death itself is the best proof that we still need 35mm "theatrical film" – as a specific means of recognition, as a form of reflexivity, and as an instrument of making things and ideas visible.
Related materials