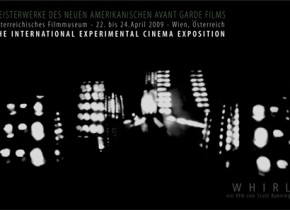 Masterpieces of New American Avant-garde Film:
The International Experimental Cinema Exposition
In contrast to their canonized predecessors like Maya Deren, Kenneth Anger, Stan Brakhage, Andy Warhol and Michael Snow, the younger generations of American experimental cinema are virtually unknown in Europe. Yet this independent film movement continues unabated. Notwithstanding the current "digital standard", innovative work with
film
is undergoing a renaissance in America. 
This revival manifests itself not only in the captivating works of new artists who have broken onto the scene, but also in new festivals and film-cultural initiatives, in critical reception (particularly among young online writers) and in the art world, where film projections are again playing a paradoxical "avant-garde role" vis-à-vis the omnipresence of video installations.
Founded ten years ago, Christopher May's "travelling festival"
TIE – The International Experimental Cinema Exposition
has been an ideal platform for these new generations of filmmakers (as well as for rediscoveries from previous decades). After several enthusiastically received events in North and South America, TIE is making its first guest appearance in Europe, at the invitation of the Film Museum. Christopher May will personally introduce four curated programmes with a total of 45 works. These include films by several important artists who have yet to be discovered in Europe, such as Deco Dawson, Brian Frye, David Gatten, Janie Geiser, Jeanne Liotta, Luther Price and Luis Recoder – "films that illuminate the continuing vitality and beauty of celluloid." 
Related materials