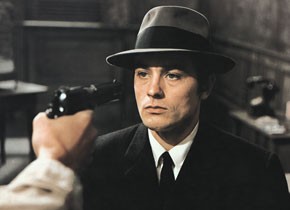 March 11 to April 7, 2011
A singular figure in world cinema, Jean-Pierre Melville was born in Paris in 1917 and died there in 1973. His name has become associated with a unique aesthetic which he most famously applied to a series of gangster films in the 1960s and early 70s. Le Samouraï, Le Deuxième souffle and Le Doulos are prime examples of Melville's rigorous style and his sense of perfectly calibrated detail – a cool, concentrated genre cinema of exceptional purity. While providing iconic roles for some of the greatest actors in French cinema, these films also expressed a highly personal view of the world.
The "homme melvillien" as interpreted by Alain Delon, Jean-Paul Belmondo and Lino Ventura is a distinct character: Melville holds no illusions about the fate of his loner protagonists; with ritualistic inevitability they always perish in the end, according to an irrevocable code of honor. They find themselves in conflict with a bourgeois world that is based on other values: capital, power, and opportunity. The price, the inescapable consequence of their proud and absolute integrity, is death, which paradoxically is also the unalterable yet absurd expression of their freedom.
Two experiences are at the core of Melville's filmmaking; his masterpiece, the monumental Resistance epic L'Armée des ombres (1969), brought both of these together. The first was the time he spent as a Resistance fighter during the German occupation of France: "Everything that I became, every friend I made, and everything of value that I learned came from those years". It was then that Jean-Pierre Grumbach, the son of Alsatian Jews, took the name he would keep until the end of his life, inspired by his favorite writer, Herman Melville. The second was Melville's love of classic American movies, especially those of the 1930s. In 1961, he published a list of the 63 "decisive" U.S. directors, and it reads like a roadmap through his own work. With great success, Melville was able to condense and transform this American heritage into his own cinematic dreamscape. At times, he even reconstructed specific moments and settings from the films he admired.
Melville also reconstructed his own memories – of the Resistance era in L'Armée des ombres or the pre-war underworld in Bob le flambeur (1956) – all the while insisting upon their pure subjectivity: his films had nothing to do with his actual life, and everything to do with his fantasies: "All of my works revolve around the fantastic." Le Samouraï, the film that reveals the close relationship between Melville's spare art and Asian traditions, opens with a fictional quote from the book of the Samurai and stages its plot about the dignity of a killer in terms of a Noh drama. "My characters live the adventures and situations that I have already dreamt." (Melville)
In Jean-Luc Godard's À bout de souffle, Melville played a famous literary writer. A journalist in the film asks him about his greatest ambition, and the writer responds: "To become immortal ... and then die" – a line that could also be the motto for the tragic heroes in his own films. Like Robert Bresson and Jean Rouch, Melville was among the very few French filmmakers of the older generation who were accepted by the New Wave upstarts, and it is easy to see why. With the exception of two films – the early short 24 heures de la vie d'un clown (1946) and the commissioned work Quand tu liras cette lettre (1953), which helped finance his own studio and thus helped secure his independence – Melville's oeuvre projects an almost monolithic unity. It is the work of a total filmmaker, who, in addition to directing, writing and producing, sometimes took over the roles of cinematographer, editor and art director as well. He even performed as a lead actor, e.g. in his dark crime drama, Deux hommes dans Manhattan (1959).
In his feature film debut, Le Silence de la mer(1948), Melville single-handedly adapted Vercors' underground novel, the "Bible of the Resistance," in a radical manner. It is the first evocation of that mysterious void which lurks at the center of all his films, unspeakable, unknowable, and eerily ominous. In two other major works, Léon Morin, prêtre (1961) and L'Armée des ombres, Melville returned to the theme of the Resistance, but from 1954 on he mostly dedicated himself to the meticulous creation of an "existentialist genre cinema": gangster movies as transformed films of resistance; urbane, nocturnal representations of the 20th century reflected in the mirror of a criminal underworld. His last works, Le Cercle rouge (1970) and Un flic (1972), are the summation of this radical vision. Ultimately, Melville allowed his
Samouraï
actor
Alain Delon to switch sides and represent "the law," only to reveal
the flic as the gangster's corrupt double.
The retrospective of Jean-Pierre Melville's complete oeuvre is being organized in collaboration with Culturesfrance and the Munich Film Museum.