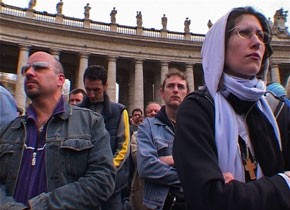 Premiere:
"The Flock of the Lord" by Romuald Karmakar
March 16, 2012
Following the major retrospective and publication of a monograph dedicated to the German filmmaker Romual Karmakar two years ago, the Film Museum now presents his new documentary, which recently premiered at the Venice Biennale, and offers the opportunity to discuss the film with Karmakar.
Those who attended Karmakar's "Workshop" evening at the Film Museum in March 2010 already got a small glimpse at
The Flock of the Lord
 – a long-term project that was finally completed in the summer of 2011. The film is a "cinematic exercise" (R.K.) about two concrete situations, filmed in two locations at very specific points in time: the first is at Joseph Ratzinger's birthplace, Marktl am Inn (Upper Bavaria), in the days surrounding the election of Ratzinger as the Pope of the Catholic Church; the second is eleven days earlier in Rome, among the hundreds of thousands of mourners who flocked to bid farewell to the recently deceased previous Pope.
Romuald Karmakar
will be available after the screening for a detailed public discussion. As a bonus feature, the Film Museum will also present Karmakar's short film,
Donkey in Snow
(2010), another Austrian premiere.
Related materials