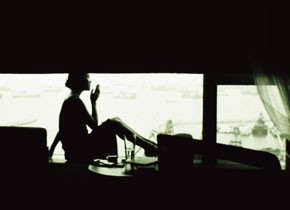 In Person:
Friedl vom Gröller
May 7 and 8, 2014
Friedl vom Gröller, born in London in 1946 and known as a photographer by the name Friedl Kubelka, has created a rich cinematographic oeuvre over a comparatively short time (circa 80 films to date, most of them made since the year 2000). Her interest in repetition and variation as well as the search for new directions within narrowly defined parameters permit the artist to practice a particular form of reflection on the relationship between photography and film, subject and object, the individual and the world. In essence: a reflection about identity – and its variants.
 
Vom Gröller works with 16mm film (almost always in black & white and usually silent), using 30 meter reels and a hand-wound camera. No script, no assistant, no post-production. The films are mostly edited in-camera. Vom Gröller's two- or three-minute portraits represent the transition from photographic snapshots to documents of time passing, with the emergence and disappearance of feelings as one of their main features. The social convention of looking at a stranger's face is "put under stress" by the stare of the camera and the duration of the filming. Real world surfaces, faces and bodies of friends, strangers, artists and the filmmaker's family, become objects of an "extended view" (Wilhelm Genazino) which – if we choose to participate – makes traces of the invisible visible, palpable, and sometimes even decipherable.
 
At the other end of the spectrum, there are allegorical reflections about one's physical-social existence in the world – visits to the dentist (Warum es sich zu leben lohnt), relieving oneself in a public park (Im Wiener Prater), commercialized sex (Ohne Titel), or a portrait of a psychotic friend, Jansci Sczenei (Festland Donau). With the longterm series of portraits of Max Turnheim (2002-13; a world premiere) Friedl vom Gröller's extended view reaches another level: the portrait genre is here envisioned as the summation of an entire life-phase – leaving one's parents home, finding one's own way and the renewed desire for middle-class institution; all this emanating from one single face over the course of time.
 
In the framework of this three-part program, works by other filmmakers will also be shown: these films and their makers are included in Friedl vom Gröller's new artist's book, "Analog Film Manifestos" (Josef Dabernig, Eve Heller, Peter Kubelka, Ulrich Seidl, Peter Tscherkassky, Albert Sackl and Antoinette Zwirchmayr). Friedl vom Gröller and her filmmaking colleagues will be present. The exhibition was curated by Alejandro Backmann and Dietmar Schwärzler and is being organized in cooperation with sixpackfilm.
Related materials