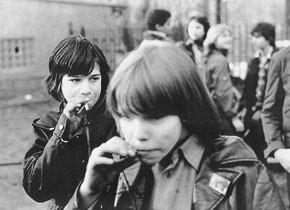 Thomas Heise
The Complete Works
November 10 to December 3, 2014
 
Thomas Heise, born in 1955 in East Berlin, is one of the most important documentary filmmakers of our time. Since the early 1990s, he has realized a singular oeuvre which still awaits discovery outside of German-speaking Europe. Dedicated in great measure to the social upheaval in "reunified" Germany, Heise's thrilling body of work provides a much more rigorous and complex perspective on this era than the cultural mainstream has ever been able to muster.
 
Heise studied at the Potsdam-Babelsberg Film Academy in the GDR, where his far-sighted early documentaries were promptly banned. For a while, he turned to making "films without images", continuing his social exploration in the form of radio features. Many aspects of these collages of everyday life would become key for Heise's later films: the evocative montage, an interest in life on the margins, youth culture, and the relationship between political and personal histories.
 
After the GDR collapsed, Heise was among the few in his generation who succeeded in cinema. His first feature films, Eisenzeit (1991) and STAU – Jetzt geht's los (1992), a portrait of right-wing youth in Halle, created controversy in a culture that liked to see itself as "reconciled", superseding all previous German States. Heise's unprejudiced observation and skill at fostering open communication, even with skinheads and their families, also helped kindle a debate about what constitutes "permissible" forms of representation. Heise answered this question by expanding STAU into a long-term cinematic project: returning eight years later, in Neustadt, he again sought out the protagonists of the earlier film; and again seven years later in Kinder. Wie die Zeit vergeht. Through the decades it has become clear that right-wing thinking has moved to the center of society.
 
"I am loyal to all people whose words and images I put on film." – Thomas Heise upholds this work ethic even when, as a "child of socialism," he deals explicitly with the GDR and its legacy; his conversation films, Barluschke (1997) and Mein Bruder (2005), and the enigmatic biographical sketch Vaterland (2002) can be equally read as individual portraits and as political allegories. But Heise is not only a cinematic analyst of the first rank, he is also a man of the theater, mostly adapting and directing works by Brecht and Heiner Müller. This experience has left meaningful traces across his films: collage-like soundtracks are as characteristic of Heise's cinema as the continuous themes of language and loss of language.
 
Basically, says Heise, "my works are storehouses of experience and history." In his powerful essay film Material (2009), this idea manifests itself most succinctly – as if Heise had compressed his complete oeuvre into one film. Like an archaeologist, he excavates a rich network of traces: fragments of great historical panoramas as well as testimony of complex streams of consciousness.

The retrospective is organized in collaboration with Navigator Film, the Vienna Film Academy and Vienna Art Week. Thomas Heise will be present at numerous screenings. To kick off the retrospective, he will present his latest film, "Städtebewohner."
Related materials