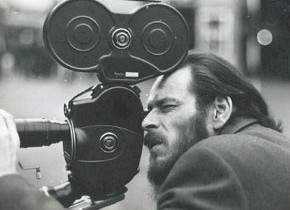 Diagonale: March 17 to 22 // Film Museum: March 23 to 30, 2015
With screenings both in Vienna and at the Diagonale festival in Graz, the Film Museum is proud to present the newly restored works of Alfred Kaiser (1940-1994), a unique and solitary figure in Austrian film history. In a way, this is a second rediscovery, because shortly after Kaiser's death his films had been brought back to public view once before, thanks to the efforts of Navigator Film.
 
Before his brief career in cinema, Alfred Kaiser was an urbanist, neurologist and paleontologist; in the early 1970s he created a scientific film collection on the subject of human behavior. In 1975, he made his first film, Ein drittes Reich, assembling historical footage from the Nazi era and addressing "a past which does not rest – it has its moment of recognition in the present." (Elisabeth Büttner). As in his follow-up film (Noch ein drittes Reich aus seinem Abfall) Kaiser's commentary on Nazi propaganda culture is given without (his own) words: the meaning and polemics of his films arise solely from the sovereign rearrangement of historical sounds and images.
 
In Kaiserschnitt – eine Operette (1977), Kaiser takes another step. In this case, the footage does not necessitate direct contradiction: slapstick, photographs and actualities from the Imperial Era, as well as a potpourri of musical pieces and multi-faceted snippets of speech are combined into a "self-explanatory" collage. With Zetteldämmerung (1979), Kaiser laconically turns away from the found-footage mode. In the style of Direct Cinema, he observes the poet Christian Ide Hintze as he distributes stories written on scraps of paper in pedestrian zones and in front of factory gates: a keen look at the urban present. This is Kaiser's fourth and final film; after a series of long, grueling pilgrimages to film funding bodies he stopped making films and worked instead as a painter, composer and writer until his death in 1994.
The restoration of the films has been made possible by the support of the Federal Ministry of Education, Arts and Culture (BMUKK).