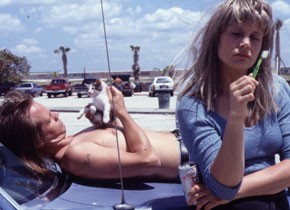 An Evening with Kelly Reichardt
May 5, 2016
Ever since her international breakthrough with Wendy and Lucy (2008), the magnificent portrait of a drifter and her dog, Kelly Reichardt's films have regularly been released in Austria – and "Wendy" Michelle Williams has since become her iconic actress. Reichardt is now recognized as one of the key American auteurs, practicing a cinema that wrings deeply humane perspectives from both the economically precarious present and the history of violence in the US (as in the case of her film about western pioneers, Meek's Cutoff).
 
However, Reichardt's earlier feature films have had few screenings in Austria. On the occasion of the restoration of her Bonnie & Clyde-inspired debut River of Grass (1994) and the acquisition of her second film Old Joy (2006, featuring Will Oldham) for the collection of the Film Museum, the director is traveling to Vienna to personally present both of these films to the audience.
We regret to inform you that Kelly Reichardt had to cancel her trip to Europe. She will, however, appear on screen for one Q & A session and will introduce both films via SKYPE.
Related materials