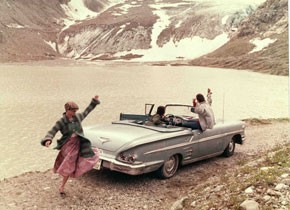 Moving Landscapes
Landscape and Cinema
November 12 to 30, 2004
The connection between "landscape" and "cinema" seems obvious. One thinks of Westerns and the settlement of new territories, or possibly of the strips of land rushing past in road movies. Yet this interaction isn't only expressed in genre films, and it goes far beyond "beautiful backdrops". The film series Moving Landscapes, curated by Barbara Pichler and Andrea Pollach, concentrates on a much richer and modern idea of "landscape in film". It includes more than 60 works, linked through associations and well-defined contrasts – from the beginning of cinema to contemporary film and video production.
 
Landscape in film contradicts a static conception of nature. The cinematic machinery of imaging and imagination sets landscapes in motion, not only in space but also in time. Film transforms all landscapes, along with the traces of political, cultural and aesthetic processes which have become engraved on the "terrain". This correlation between filmic representation and the social reality of nature is drawn in various lines throughout the programme of this show.
 
One of these lines marks off landscape as political and economic terrain, as an arena for social discourse. Starting with films which directly deal with politics, such as war or colonialism (like The Thin Red Line by Terrence Malick, Chocolat by Claire Denis, Amerikai Anzix by Gabor Body), this extends to works which put into concrete terms the social conflicts of specific landscapes (such as Chantal Akerman's De l'autre coté), and to an analysis of social norms and gendered spaces (in Messidor by Alain Tanner, in Wim Wenders' films, and in Ursula Biemann's Performing the border).
 
Another line uses the landscape as "protagonist", as a mirror of human emotions and situations (as in Roberto Rossellini's Stromboli or Victor Sjöström's The Wind), in its role as the "great other" versus human figures (Gerry by Gus van Sant; La Captive du désert by Raymond Depardon), or as a representation of the dark and "evil" elements which intrude upon a seemingly well-ordered world (Peter Weir's Picnic at Hanging Rock).

Finally, in a third branch of the show, "Landscape in film" appears unmistakably as a technically constructed environment, made manifest to us by the apparatus which steers our perceptions. Early cinema's fascination for the beauty of a landscape – the visual value apparently "ordained by nature" – is contrasted with more recent innovative and experimental films which treat landscape as a primary "material"; a material which needs to be processed before it can be properly read, seen or recognized. This approach will be presented in several programmes of short films. They range from works associated with Land Art (such as Robert Smithson's Spiral Jetty), to the severe beauty of classic structuralism (Michael Snow's La Région centrale as well as works by Kurt Kren and Chris Welsby), and finally the distortions and digital treatments of contemporary artists (as in videos by Doug Aitken, Michaela Grill, Katharina Matiasek and Tim McMillan).
 
The more "obvious" a landscape appears, the more it removes itself from precise observation and articulation. Therefore, the show's aim is to offer new ways for perceiving this topic, not merely with the assistance of the films, but also through a series of lectures (each to be held on Saturday and Sunday afternoon) and introductions. Artists and theorists who will be presenting their takes on "Moving Landscapes" include James Benning, Ursula Biemann, Gustav Deutsch & Hanna Schimek, Brigitte Franzen, Jyoti Mistry, Michael Palm, Lotte Schreiber, Kristina Trolle and Fred Truniger.
 
A highlight in this context will be the visit by James Benning, who will also show his two new films 10 Skies and 13 Lakes as a double feature. 10 Skies will have its World Premiere at the Film Museum.
Related materials